Editorial Board
Hang On, Portugal, Europe's Crisis Isn't Over
With trouble brewing at Espirito Santo International, Europe's leaders must find the political will to recapitalize the financial system and address the flaws in their currency union. 
by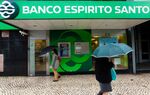 Europe has come a long way since the darkest days of 2012, when the common currency at the center of its union seemed on the verge of falling apart. But it hasn't come far enough. This week's turmoil surrounding a Portuguese bank shows how fragile the euro area's financial system still is.
At issue is the condition of Espirito Santo International SA, the ultimate parent of Portugal's second-largest lender by market value, Banco Espirito Santo SA. The parent missed some debt payments amid concerns about its accounting. A frenzy of speculation sent the bank's shares plummeting until trading was halted today.
Espirito Santo is small by global standards, about a 20th the size of Germany's Deutsche Bank by assets. Even so, Portugal can't easily afford to support the bank, should support be needed. Its government has to run a big budget surplus to get its debts below European Union-directed limits. That has already put fiscal policy under an enormous strain. Recognizing Portugal's vulnerability, investors have pushed the yield on its government bonds up sharply, further worsening its finances. It's akin to the vicious circle that drove several euro-area nations close to financial collapse in 2012.
Europe's recent reforms were supposed to have severed the link between the finances of banks and sovereigns. In a new banking union, euro-area nations said they would assume joint responsibility for oversight and recapitalization. Unfortunately, as Portugal's latest travails demonstrate, their efforts have fallen short. The risk-sharing that's needed isn't yet in place. By failing to provide deposit insurance throughout the euro area, and by creating an underfunded and overly complex mechanism for rescuing banks, Europe has told investors, in effect, that struggling governments are still largely on their own.
This vulnerability extends far beyond Portugal. According to one estimate, the euro area's banks fall hundreds of billions of euros short of the equity capital they would need to weather a crisis -- with some of the biggest shortfalls in major economies such as France and Germany. This lack of capital is stifling growth, too. It starves the economy of credit by making banks shy away from risk. As of May, loans outstanding to nonfinancial companies were down 3 percent from a year earlier.
Europe's leaders must find the political will to recapitalize the financial system and address the flaws in their currency union. Otherwise, they'll remain in a precarious limbo where trouble at a single mid-size bank has the potential to cause widespread economic damage.