Currency Headwinds? You Mean Price War
Multinationals throughout the developed world are complaining of "currency headwinds" -- possibly because policymakers are engaged in a race-to-the-bottom currency war.
by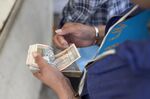 I've read one corporate report too many blaming "currency headwinds" for lower-than-expected profits. Let's call this by its name: a global price war that may have to get worse for multinationals before it gets better.
Today, it was the turn of U.K. fashion retailer Burberry to complain about foreign exchange losses. Similar complaints have come in recent months from U.S., Korean, Swiss and, of course, Eurozone companies. All have suffered from too-strong reporting currencies.
Burberry said currency effects would reduce its retail profit this year by $94 million (at the current exchange rate) and also hurt licensing revenue. "Currency headwinds have increased," said Burberry chief financial officer Carol Fairweather, warning that 2015 will be worse.
For Burberry, the adverse effect comes mainly from the strength of sterling. Last month, Nike said currency losses reduced its fiscal fourth quarter, 2014, pretax profit by $30 million. Earlier, Coca-Cola and Pepsi warned of a serious negative forex effect on their 2014 revenues and profits (they mentioned the devaluation of the Venezuela bolivar, but that could hardly justify "an approximate 7% headwind" to Coca-Cola's full-year operating income). Swiss-based Nestle said in April that foreign exchange losses wiped out 8.6 percent of its first quarter sales: the strengthening Swiss franc undercut the consumer goods giant's revenues most severely in the Americas and in Asia. Samsung recently warned of the possibility of a major drop in operating profits in the second quarter, partly because the Korean won is at six-year highs.
Then there are the euro area countries, which have been moaning about their stubbornly strong currency for years. Fabrice Bregier, chief executive of Airbus's passenger plane unit, this week called on the European Central Bank to devalue the euro. Europe's famed luxury houses, one after another, have been blaming those nasty headwinds for weak profits and talking of raising prices overseas to counter them.
Japanese multinationals, such as Sony, have been among the few winners. They have received substantial benefits from the impact of Abenomics in cheapening the yen. Yet Japan has hardly been alone in resorting to the printing press to spur economic growth. Both the U.S. and the Eurozone have intervened massively to stimulate demand. Even in Korea, where the key interest rate looks relatively high at 2.5 percent, it is substantially lower than the 3.68 percent 15-year average.
Low interest rates and loose money should help to reduce currency values, but mostly that isn't happening. Jeremy Warner suggests in the U.K.'s Daily Telegraph that policymakers throughout the developed world are involved in "race to the bottom, competitive currency devaluation." Back in 2010, Brazilian Finance Minister Guido Mantega termed policies like this a "currency war."
"Seemingly everyone is playing," Warner wrote, "regardless of the appalling precedent of the Thirties, when competitive currency devaluation by countries desperately chasing scarce external demand eventually resulted in the imposition of massive trade tariffs, which in some cases only further enhanced the existing depression. We are not at that stage yet, but the direction of travel is clear enough."
There are two problems here. One is that the developed economies are all following the same low interest rate, high-stimulus policies at the same time, so their currencies aren't benefiting against each other. The other is that investors still perceive emerging nations, where monetary policy is generally tighter, as less safe, because of political risk. So they pour money into EU periphery bonds as if Portugal and Greece were now responsible borrowers, but avoid Russia like the plague (though that may be seeing a bit of a correction with signs of distress in Portugal's second biggest bank). Credit default swaps on Brazilian sovereign bonds are twice as expensive as on Spanish ones.
All of this allows the emerging economies to profit from artificially weak currencies: Russia, for example, widely expected to plunge into recession because of growing international isolation, has surprisingly avoided it for now. And multinationals, which come mainly from developed economies, take the hit.
Pulling out of a price war is always scary and costly, which is one reason central bankers are unwilling to listen to Bank for International Settlements chief Jaime Caruana, when he calls for a return to tighter money. He is, however, right when he says the easy money consensus is not helping to stimulate demand, unless it's for certain financial instruments. It isn't stimulating developed economy exports, either.
Tighter monetary policies in developed economies may well cause more pain at the same multinationals that now blame currency fluctuations for their troubles. Let's face it, however: These companies had it good a few years ago when emerging markets were flooded with hot money and their local currencies were strong no matter how central banks tried to weaken them. Now, the anomaly has been reversed and, instead of a windfall, corporations are getting a headwind.
This column does not necessarily reflect the opinion of Bloomberg View's editorial board or Bloomberg LP, its owners and investors.
To contact the author on this story:
Leonid Bershidsky at lbershidsky@bloomberg.net
To contact the editor on this story:
Marc Champion at mchampion7@bloomberg.net
Before it's here, it's on the Bloomberg Terminal.
LEARN MORE