Why Germany Crushed Brazil
Germany took more than 13 years to build a soccer system that led it to the astonishing 7:1 victory over Brazil.
by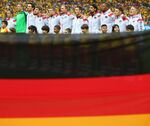 Germans are having a hard time believing what happened Tuesday night in Brazil. Sure, they are celebrating their country's 7:1 win over the home favorites in a World Cup semifinal -- street musicians on Berlin's S-Bahn are playing "for the German champions" today -- but newspaper headlines speak of incredulity rather than sheer joy.