China's Bizarre Billionaire Hits Hard Times
What does it take to bamboozle the self-described "most influential person of China?" If that person is Chen Guangbiao, the Chinese billionaire who held a luncheon for several hundred homeless in Central Park, it might require little more than a faked award.
by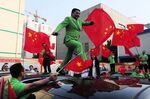 What does it take to bamboozle the self-described "most influential person of China?" If that person is Chen Guangbiao, the Chinese billionaire who held a luncheon for several hundred homeless in Central Park two weeks ago, it might require little more than a certificate from the United Nations naming him "the world's most prominent philanthropist" and "global peace and goodwill ambassador." According to Chen, he donated $30,000 to something called the China Foundation for Global Partnership in advance of the lunch, with the understanding that they would present the award to him there.
For two weeks, nobody paid the award much attention. But then, on July 7, sharped-eyed bloggers noticed that Chen's certificate was awarded to him by the "United Nation" -- not the better-known global organization headquartered in New York. Perhaps due to Chen's status as "Most Charismatic Philanthropist of China," the UN took note and -- via its official account on the Sina Weibo microblogging service -- disavowed Chen's certificate with a finger-wagging emoticon and a reminder of the UN's proper name in English. Chen concedes that he isn't above paying for honors, just not fake ones and -- all things considered -- he wants his money back.
Apparently that was too much for the China Foundation for Global Partnership to take, and on Tuesday they issued their own statement claiming that prior to the homeless luncheon, Chen had given them $30,000 because he was so impressed with their work. When he asked that in return, they give him an award at the event, they thought it a fine idea, until Chen showed up in Central Park:
On the day of the homeless event, which was held in Central Park, Mr. Chen provided the Foundation with a pre-made certificate which had the United Nations logo and asked us to present to him.
It's probably unwise to venture a guess as to who's telling the truth (shouldn't the Foundation have brought its own award?), but no less an organization than the People's Daily, the official mouthpiece of the Chinese Communist Party, has started to dig into the matter. According to the paper's Twitter account, the Foundation isn't accepting calls from the media, and the names and photos of the Foundation's leadership have been deleted from its website. That's hardly incisive investigative journalism. But it's understandable, especially if the reporters recalled a 2010 government order that went out forbidding newspapers "from reporting negative news about Chen Guangbiao." Indeed, to this day, it's rare to see even a hint of negative Chinese media coverage of "China Top Ten Most Honorable Volunteer," otherwise known as Chen Guangbiao.
Why the censorship? A reporter with the highly respected Southern China Daily newspaper claimed in January that Chen has very good relations with China's Central Propaganda Department (China's top censoring body). If that's the case, it would explain much. But until it can be confirmed it's just one of the many unknowns surrounding the "Most Well-Known and Beloved Chinese Role Model."
Of those mysteries, none is quite so large as the source of the wealth that Chen gives away (and occasionally poses with). Supposedly, he's a recycling magnate. But good luck to anyone who tries to learn anything about that business. Last year, in my capacity as a correspondent for Recycling International, a recycling-industry trade magazine, I made several requests for an interview with Chen regarding the business he'd supposedly built. The response was terse: "Wouldn't you rather to talk to him about his charity?" Not at all, and thus my interview request was denied. Other reporters have met with similar resistance. In 2011, April Rabkin, writing for Fast Company, managed to meet with Chen for several interviews, but received only a dismissive "yes, yes" when she asked about his businesses. Still, in Rabkin's telling, Chen was not above offering some nuggets (which she declined), including:
A set of skin-whitening creams, antiaging facial lotion made from sheep's placenta, $2,000 in cash, a massage, and a pair of gold and silver bunnies to usher in the Year of the Rabbit.
It's hard to say whether Chen has offered to shower similar largesse on Chinese reporters. If not, it may be time to start. Over the last several days, prominent Chinese newspapers have run commentaries on Chen that criticize his ostentatious philanthropic methods, though rarely the man himself. Still, even that line is starting to be crossed, and nowhere more succinctly than in the Chinese edition of the state-owned China Daily. Writing on July 1, columnist Zhou Liming offered up what might serve one day as a fitting epitaph for Chen: "The sad truth is that a vast distance exists between the image he holds of himself, and that which is held by the public."
This column does not necessarily reflect the opinion of Bloomberg View's editorial board or Bloomberg LP, its owners and investors.