The Upside of Brazil's Defeat
Brazil's devastating defeat in the World Cup could improve the prospects for much-needed economic reform
by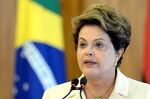 Brazil is about to show the world how sports can influence the national mood, politics and markets. The country's devastating loss to Germany in the World Cup semifinals will weigh heavily on its leaders -- and, as a result, has the potential to end up being good for its economy and markets.
The 7-1 defeat represents a debacle for a nation where football is both a passion and an obsession, an international embarrassment that wasn't just unlikely but quite unthinkable. It is also eerily similar to what has happened to the country's economy, which has turned sluggish and disappointing in recent years after a period of impressive growth, investment and job creation.
Related: Why Germany Crushed Brazil
In football and in living standards, Brazilians have experienced an abrupt downgrading of their prospects from promising to hugely problematic. Both the players and the policy makers have been slow to comprehend the magnitude of the change. In seeking to adjust, they have tried to return to an old playbook, but with personnel who can't carry it off, particularly given the changed landscape.
QuickTake Brazil's Highs and Lows
There are some mitigating explanations for the poor performance of both the football team and the economy. The captain and striker were both unavailable, one suspended due to a caution in the prior game and one badly hurt by a brutal tackle. The economy has suffered from the global financial crisis and its aftermath. None of these excuses, though, justifies the subsequent lack of a proper response.
Brazilians might feel that their team's lack of leadership on the pitch reflects something much bigger -- namely, lackluster political leadership at the national level. Their disappointment is likely to be visible quite soon in President Dilma Rousseff's popularity ratings. With campaigning for the presidential elections set to start shortly, Brazil's football disaster could well play a role in frustrating Rousseff's re-election bid.
How financial markets will respond remains an open question. It's far from certain that they will sink into a football-induced slump. Indeed, the opposite could happen: The defeat could lead to a market rally as investors become more optimistic about the possibility of economic reforms under a new government after the elections.
A buoyant market, though, would benefit only a small minority of Brazilians, given the country's extremely unequal distribution of wealth and financial holdings. The rest in this football-crazy nation will feel only pain, of the type that isn't easily forgotten or forgiven.
This column does not necessarily reflect the opinion of Bloomberg View's editorial board or Bloomberg LP, its owners and investors.
To contact the author on this story:
Mohamed Aly El-Erian at melerian@bloomberg.net
To contact the editor on this story:
Mark Whitehouse at mwhitehouse1@bloomberg.net
Before it's here, it's on the Bloomberg Terminal.
LEARN MORE