Tefft the Terminator Heads to Moscow
It's an indication how little the U.S. and Russia expect from their relationship that the U.S. has nominated John Tefft, a career diplomat and annoyance to the Russians, to be the new ambassador in Moscow, and the Russians said fine. 
by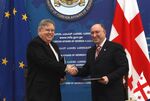 To understand how little the U.S. and Russia expect of their relationship these days, consider this: The Barack Obama administration has put forward John Tefft, who is something of a bogeyman for the Russians, to become the next ambassador to Moscow -- and the Kremlin today said it's fine with that.

Tefft is a former ambassador to both Georgia and Ukraine. From 2005 to 2009, he worked unusually closely with Georgia's then-President Mikheil Saakashvili. During this period, Russia fumed over Georgia's tight relationship with the U.S. and its efforts to join NATO. In 2008, Russia and Georgia went to war.
A year before that, Tefft described in since-leaked diplomatic cables how he viewed Russian actions in Georgia in terms that could now apply to Ukraine. He said the Russians were using covert operations to turn Georgia from the West, destabilize the country and restore their control. "The Russians are aggressively playing a high-stakes, covert game, and they consider few if any holds barred," he wrote.
Tefft then moved on to run the embassy in Kiev, Ukraine, leaving a year ago, just months before the protests that toppled President Viktor Yanukovych. Russian leaders are convinced that the demonstrations and the uprising that followed were well-planned U.S. plots.
So you might expect that the Russian authorities would see Tefft's appointment as a sick joke and push back. On the contrary, they praised his professionalism and said they'd accept him in Moscow. They clearly prefer Tefft to the last U.S. ambassador, Michael McFaul, whom they all but hounded out of town. McFaul was tasked with resetting relations with Russia and encouraging it to modernize its economy and pursue a more democratic path. He devoted himself to supporting civil society groups and opposition figures, developing a Twitter following of almost 80,000. Russian President Vladimir Putin hated all that.
Political scientist Nina Khrushcheva, the granddaughter of former Soviet leader Nikita Khrushchev, recently caused a stir on the Russian blogosphere when she proposed, in all seriousness, that Obama offer the ambassadorship to Arnold Schwarzenegger, given that Putin loves celebrities and would enjoy a macho standoff with the Terminator. In a less theatrical way, Tefft can provide that.
Obama's choice for the job is no Schwarzenegger, of course. Tefft, whom I met in Georgia, is a disarmingly modest and folksy Midwesterner. Yet he is also shrewd and very experienced. He was deputy director of the State Department's Office of Soviet Union Affairs from 1989 to 1992, and the charge d'affaires at the U.S. embassy in Moscow in the mid-1990s. He was ambassador to Lithuania from 2000 to 2003 before moving to two other ex-Soviet states attempting to break free of Russian hegemony.
The U.S. has given up on having positive ties with Russia and has accepted a frostiness reminiscent of the Cold War. That suits Putin, who uses anti-Americanism to build support at home. The two countries no longer want to pretend to be friends. What they seek in a U.S. ambassador is someone with a safe pair of hands and no illusions about what the relationship can deliver. Tefft is perfectly cast for that job.
This column does not necessarily reflect the opinion of Bloomberg View's editorial board or Bloomberg LP, its owners and investors.
To contact the author on this story:
Marc Champion at mchampion7@bloomberg.net
Before it's here, it's on the Bloomberg Terminal.
LEARN MORE