Latest LeBron Rumor: All LeBron Rumors Are False
Sportswriters: Consider this an intervention. NBA free agency speculation has officially spun out of control.
by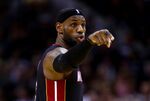 Sportswriters: Consider this an intervention.
NBA free agency speculation has officially spun out of control, fueled by the incessant reporting of every plausible scenario, every rumor of team meetings, every fuzzy photo of Kobe Bryant and Pau Gasol possibly dining with Carmelo Anthony in Los Angeles. At the center of the media frenzy is, of course, LeBron James -- or is it actually Chris Bosh? It's getting too hard to keep up with the constant flow of conflicting, incremental updates over-analyzing every unsubstantiated, inconsequential detail. It's the 2000 presidential election all over again.
Truly, at this point it seems as likely that LeBron will stay in Miami as it is that he'll join Al Qaeda. But wait: Apparently there's a universe in which the possibility of him joining 'Melo in New York exists. As an unnamed source -- is there any other kind? -- told the New York Post, Phil Jackson "really wants LeBron to come to New York. That's his dream right now. Phil is trying to get it done."
My dream is to be 20 pounds lighter and find a rent-controlled one-bedroom in the West Village. Can Phil get that done, too?
To help us get over our collective whiplash, SportsGrid's Eric Goldschein sums up exactly where we are right now:
We've gone from 'LeBron James is leaning towards Cleveland' to 'LeBron James is leaning towards Miami' to 'Carmelo Anthony is leaning towards New York' to 'Carmelo Anthony is seriously considering L.A.' to 'Carmelo Anthony is looking to join Miami' to 'Carmelo Anthony wants LeBron James to want to lean towards New York.' Got that?"
Message received: Everyone has gone insane. Even Cleveland, the ultimate spurned lover, is doing everything it can to try to lure LeBron back to his home state. First we heard that Nike had bought billboards in the city ahead of the impending announcement of his return -- a move deemed premature by everyone, including Nike, which quickly dismissed the rumor.
That was fiction, but here's the fact: Ahead of Thursday's end to the free agent moratorium, the Cavaliers engineered a three-team trade that would send Sergey Karasev and Jarrett Jack to the Brooklyn Nets, and Tyler Zeller and a future first-round draft pick to the Boston Celtics. It's effectively a salary dump, clearing $9.5 million in cap space and allowing the team to offer LeBron a max contract.
I suppose one man's optimist is another man's masochist, but Cleveland is just setting itself up for yet another round of heartbreak if LeBron chooses one of his 75 other suitors. That's not to say the Cavs can't land him, but anyone who tells you he's "90 percent" sure of LeBron's return was also probably just as sure Johnny Football would be the No. 1 pick in the NFL Draft.
The only thing any of these anonymous insiders and "plugged-in sources" knows for sure is that they know absolutely nothing. Or, as one such person told Sporting News' Sean Deveney, "There is nothing assured." The Cavaliers may or may not have offered to trade Andrew Wiggins to the Timberwolves for Kevin Love, who may or may not (probably not) have tipped everyone's hand by playing a pickup game with 'Melo and Kobe in L.A.
Thankfully, the moratorium ends tomorrow, and LeBron and 'Melo are expected to make their announcements by the end of this week. Although at this point, maybe the Supreme Court should just make their decisions for them.
This column does not necessarily reflect the opinion of Bloomberg View's editorial board or Bloomberg LP, its owners and investors.