Future of Oil Hangs on Iraqi Politics
Even under the best scenario, Iraqi oil production gains are going to be much smaller than previously projected.
by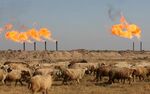 Fears that events in Iraq will send global oil prices soaring have abated. Yet, the crisis has potentially huge implications for oil. Under any conceivable outcome to the current situation, oil production from Iraq will fail to meet recent expectations. The reason for this dire prognosis is that politics - not security or logistics - will be the biggest determinant of Iraq's oil trajectory in the years ahead.