'Fiscally Infantilized' U.K. Needs to Grow Up
Westminster should loosen its grip on the tax and spending powers of the various areas and regions which England is comprised of, to shift the center of financial gravity at least a few degrees further north.
by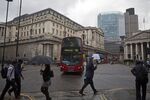 Scotland's drive for independence from the U.K., which will culminate in a Sept. 18 referendum, is having the unintended side effect of loosening London's grip on the tax and spending powers of other parts of England. The likely -- and welcome -- consequence is a decentralization of power that will help improve the balance of the British economy and shift the center of financial gravity at least a few degrees further north.
In a report published today, Parliament's Communities and Local Government Committee said it supports transferring some tax-raising powers to local authorities, giving them more control over spending and allowing them to borrow for investing in infrastructure projects. The U.K. government now allows regional governments to impose local taxes of just 2.5 percent, compared with more than 15 percent in both Sweden and Canada, and almost 11 percent in Germany, the report said. No wonder London Mayor Boris Johnson describes the U.K. as "fiscally infantilized."
This concentration of power in Parliament produces policy that's London-centric, depriving the country's regions of local economic control and adding to the distortions that lead to the nation's southeast producing a disproportionate share of economic output. London accounts for about 19 percent of the U.K.'s jobs, 21 percent of its company headquarters and 25 percent of gross domestic product, according to the report, entitled "Devolution in England: The Case for Local Government."
The push toward more localization comes from an unlikely source. Moves by the government to appease Scottish voters, as well as Welsh nationalists, by ceding more tax and spending powers have "brought into question how England is governed and also accentuated how out of step England is with other nations," the committee wrote. "No-one who submitted evidence to this inquiry opposed fiscal devolution."
Another potential benefit of devolving fiscal command could be the development of a municipal-bond market. That's something the U.K. lacks, partly because of a historical accident in the interest-rate swaps market involving the London borough of Hammersmith and Fulham. When the courts ruled in the late 1980s that U.K. local authorities didn't have the legal power to dabble in derivatives, local councils became capital-markets pariahs. A possible solution would be the creation of a central agency to pool borrowing needs.
The Parliamentary committee is in favor of allowing regional governments to borrow provided they have agreed to a program of economic discipline. "Local authorities in England wanting to grow their economies may therefore need to borrow to invest," the report says. "Greater local revenue streams would enable local authorities to borrow to invest and so increase their tax yield and reinvest in further schemes." The creation of a muni-bond market would be a boon to British pension funds seeking higher yields than they can get in the government gilt market, provided councils were suitably constrained against wasteful spending.
Governments aren't exactly in the business of watering down their authority. As politician Chuka Umunna, a rising star of the opposition Labour Party, says in the current edition of the Economist magazine, he supports localism along with his peers who entered Parliament with him four years ago, "though maybe that's because none of us has been in government, so we don't know what it feels like to give power away." Nevertheless, the U.K. Parliament should heed the local government committee's words, and start making plans to cede control of at least some fiscal authority to England's regions.
This column does not necessarily reflect the opinion of Bloomberg View's editorial board or Bloomberg LP, its owners and investors.