Is Greener Always Better?
Europe wants to raise the percentage of waste diverted from landfills to recycling bins to 70 percent. But focusing on this "recycling rate" isn't a terribly nuanced way to measure environmental progress.
by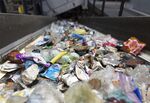 A high recycling rate is a bit like a civic penance. Yes, we consumed, the figure admits. But we paid for it by going through the trouble of sorting our waste into green and blue bins. High recycling rates are demonstrations of personal and civic virtue, and so long as green is good, greener --as measured by a higher rate -- is obviously better.
That seems to be the message behind the European Commission's July 2 announcement that member countries will be required to recycle 70 percent of their municipal waste by 2030. The goal, the commission explained, is to "move us towards a zero-waste economy," and beyond the already difficult-to-achieve 50 percent target rate that the EU set for its members in a 2008 directive.
If what matters to you is this overall "diversion rate" -- the percentage of waste diverted from landfills to recycling and composting sites -- then 70 percent is indeed better than 50 percent. And it's much, much better than today's overall EU recycling rate of 39 percent.
But how much does this figure actually tell us? In the United Kingdom, for instance, recycling rates rose dramatically from 11 percent in 2000 to 43 percent in 2012, but are likely to drop 2 percent in 2013-14, according to SITA UK, a leading U.K. recycling company. The reasons are several, including "green fatigue" among people tired of sorting their garbage. But one key factor is a decline in the volume of newspapers and glass bottles Britons are consuming these days.
Historically, those two items have been among the heaviest components of the recycling stream. And because recycling rates are generally measured by the weight of the throwaways, diverting more glass and newspapers into the recycling bin was a good way to inflate the rates. In the U.S., too, the amount of recoverable newsprint in the municipal waste stream declined from 17.54 million metric tons in 2004, to 9.19 million metric tons in 2011. Sure enough, the U.S. has seen a slight decline in municipal recycling rates over the last decade.
The death of newspapers isn't the only cause, of course. But the point remains the same: Simply looking at the percentage of waste being recycled isn't a terribly nuanced way to measure environmental progress.
Consider the laudable example of San Francisco, where locals rightly take pride in an eye-popping 80 percent recycling rate. That's higher than any European country by far, and more than double the 34.5 percent recycling rate recorded for the U.S. as a whole in 2012 (the date of the most recent government data). Like Europe, San Francisco, too, has set a "zero waste" goal for itself, and looks to be well on its way.
Or is it? For one thing, the 80 percent figure is likely inflated. In December, Samantha MacBride, an assistant professor at City University of New York, convincingly demonstrated that San Francisco's diversion rate was heavily padded by the inclusion of heavy construction and road waste. Subtract those totals (which are very rarely included in recycling-rate calculations elsewhere), and San Francisco's rate drops to 60 percent, about what Germany manages as well.
And even that lower figure is deceiving. The fact is that cities can increase their recycling rates and, at the same time, the amount of waste they throw away: They can fill up landfills as well as recycling bins. That's precisely what occurred in the U.S. between 1960 and 2012, according to U.S. Environmental Protection Agency figures: Municipal solid waste generated grew from 88.1 to 250.9 million tons while the recycling rate increased from 6.4 percent to 34.5 percent.
According to MacBride's analysis, in 2012 San Franciscans sent 386 kilograms of waste per person to landfills and incinerators; the Germans contributed 223 kilograms per person. In other words, despite their lofty recycling rates, San Franciscans -- though they've made progress -- are still a long way from meeting German standards of thriftiness. As long as environmental policymakers remain obsessed with recycling rates, those kind of figures will end up in the rubbish bin.
This column does not necessarily reflect the opinion of Bloomberg View's editorial board or Bloomberg LP, its owners and investors.