Hey, U.S., Why Not Beat Up Your Own Banks?
The U.S. crusade against European banks for violating U.S.-imposed sanctions is becoming a major political irritant. Washington should go easier on its allies.
by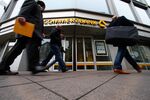 U.S. prosecutors have been on a roll lately in their efforts to extract big fines from foreign banks that violate U.S.-imposed sanctions on Iran and other rogue states: This week, they signaled that Germany's second-biggest lender, Commerzbank AG, is next in line. Lucrative as the activity may be, it could ultimately have unpleasant repercussions for the U.S.
Since 2009, the U.S. has extracted more than $11 billion from European institutions such as Credit Suisse Group AG, Lloyds Banking Group Plc, Standard Chartered Plc, HSBC Holdings Plc, Barclays Plc and ING Groep NV, including the $8.9 billion settlement it reached last week with France's biggest bank, BNP Paribas SA. Commerzbank, which has been cooperating with investigators, reportedly faces a penalty of at least $500 million, an amount roughly equivalent to the bank's net income over the 12 months through March 31.
Going after Commerzbank is in some ways akin to attacking Germany itself. The bank is seen as representing the country's powerful Mittelstand, the body of solidly profitable small and medium-sized companies that make up the foundation of the German economy. The German government holds a 17 percent stake in the bank.
Not surprisingly, Germans are displeased. Here's a selection of the comments they've been posting on news sites:

The U.S. is "supplementing their budget shortfall with 'fines' from foreign bankers" (business daily Handelsblatt).

"The United States is not really our friend. Friends treat each other with respect, the way Russia and Germany treat each other, and they do not try to order each other about" (Handelsblatt).

"The EU should think about introducing similar senseless rules and then punishing U.S. companies for violating them" (daily Frankfurter Allgemeine Zeituing).

"Get out of the dollar, that's the only lesson here. Then the U.S. boys will see what they get, and that'll be the end of their autocratic superpower posturing" (Frankfurter Allgemeine Zeitung).

"The U.S. has invented a great export article for which sales equal profit: penalties on foreign banks that have violated U.S. rules" (daily Sueddeutsche Zeitung).

The U.S. has already given the Germans ample reason to be angry. Last year, German Chancellor Angela Merkel discovered that the U.S. National Security Agency had tapped her mobile phone, and now she has to deal with a fresh spy scandal -- an American double agent in the ranks of German intelligence. Merkel has said that the spying violates trust between allies, a strong statement from an extremely reserved politician.
A style difference is the only reason German leaders will not be as outspoken against the U.S. and the dollar, as the French have been. French Finance Minister Michel Sapin said recently that the BNP case should "make us realize the necessity of using a variety of currencies," calling on Europeans to stop trading in dollars among themselves, as they often do in energy markets. With German help, the French opposition to the dollar could become formidable.
One person watching the U.S. attack on European banks with glee is Russian President Vladimir Putin, who recently alleged that the U.S. offered to drop charges against BNP Paribas if France refused to hand over two Mistral warships to Russia. "What is that if not blackmail?" Putin said. "Is that any way to work on the international scene?"
Putin is trying to insure Russia against U.S. financial sanctions by agreeing with China to trade in national currencies (the Russian central bank recently reportedit already had a renminbi-ruble swap facility in place to ease trade financing). It is equally important for Moscow to drive a wedge between the U.S. and Europe as they try to agree on Ukraine-related sanctions. The more bad feelings there are among the Western allies, the greater the likelihood that Putin will get away with the Crimea annexation and his further efforts to destabilize Ukraine and bring it under at least partial Kremlin control.
To the U.S. government, punishing European banks for breaking sanctions may just be a legal matter. That, however, is not how it's seen in Europe: Here, the matter inevitably gets politicized. If Washington truly sees Europeans as friends and allies, it should take that into consideration.
This column does not necessarily reflect the opinion of Bloomberg View's editorial board or Bloomberg LP, its owners and investors.