Editorial Board
Don't Bomb Donetsk
As pro-Russian separatists regroup in the city of Donetsk, Ukrainian President Petro Poroshenko needs to pause the fighting.
by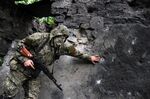 Petro Poroshenko, Ukraine's chocolate-magnate president, has been having unaccustomed success in rolling back separatists in the eastern regions of the country. Now, however, as pro-Russians regroup in Donetsk, the region's largest and most prosperous city, he needs to pause.
Poroshenko deserves credit for the way he's handled the Russian-backed rebellion in the east. Soon after taking office early last month, he called for a unilateral cease-fire, allowing time for him to explore Russia's willingness to cut supplies to the rebels and agree to a viable peace deal. When that 10-day effort failed, he launched an assault on separatist strongholds.
To the surprise of everybody, including perhaps the Ukrainian military itself, government troops have begun to fight like an army. A propaganda battle has followed, as Ukrainian television cameras film troops delivering food to the deprived and "liberated" citizens of Slovyansk, while Russian reporters focus on civilian casualties. The parliament in Moscow is preparing a "white book" on alleged atrocities committed by the Ukrainian state.
Russian President Vladimir Putin has been surprisingly quiet since the offensive began, but it would be a mistake to conclude that he is through intervening in Ukraine: NATO says that in recent days it has seen the return of some troops that Putin pulled back from the border several weeks ago. Poroshenko should take note, as should leaders of the European Union as they consider further sanctions.
First, Poroshenko: Slovyansk was a small town, whereas Donetsk is a city of more than 1 million, most of whom have no love for the authorities in Kiev -- even if they also don't want to join Russia or live in an unrecognized banana republic. And the rebels are busy blowing up bridges and otherwise making sure any Ukrainian assault on the city would be as difficult as possible. So it's going to take patience to keep things from getting out of hand. As local billionaire Rinat Akhmetov says, "Donetsk must not be bombed."
The better approach is to seal the rebels inside the city; their weak local support will eventually collapse. In the meantime, the military has plenty to do to regain control over the porous border with Russia. Poroshenko should also make sure the rebels are given a way out other than fighting. Anton Gerashchenko, adviser to the Ukrainian Interior Minister, has unhelpfully promised to ferret out and punish everyone who fought for the separatists in Slovyansk. It would be smarter to offer them amnesty, provided they turn themselves in and testify to their roles in the fighting.
Calls from Russia for an immediate cease-fire are premature, if not deceitful. (The rebels had a chance to join one just days ago.) At the same time, Poroshenko and his generals have been wrong to insist that rebel fighters lay down their arms before cease-fire talks can begin; the Ukrainian military is not strong enough to demand an unconditional surrender. This conflict can end only with a negotiated solution.
As for the EU, it agreed in principle on Monday to add more names to the list of 61 people it has sanctioned over Russia's actions in Ukraine. It is said that the additions will include more separatist leaders. That would be something, but not enough. It is as important as ever to show Putin that continuing to fuel the conflict would carry a substantial cost.