Obama's Midterm Surprise: Immigration
Activists want Obama to go "big and bold" on immigration. Here's why he might. 
by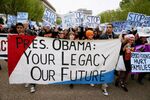 President Barack Obama has said that he will act administratively on immigration before the midterm election. Pro-immigration activists are pleading with him to "go big and bold," as Gustavo Torres, executive director of CASA de Maryland, told Buzzfeed. If Obama is in a gambling mood, he might do just that.