China's Gamblers Go Bust on the World Cup
During this year's World Cup, China's famed addiction to gambling of all kinds has gone into overdrive.
by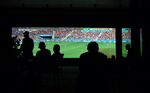 Pity the parents of Xiao Cai, a young woman from Wuxi, China, who lost the equivalent of $161 betting on World Cup matches. When her folks refused to cover the losses, she fled to Shanghai and -- pretending to be a kidnapper -- sent them a note claiming that she'd be prostituted if they didn't pay a ransom equal to $3,200 (presumably, to be bet on Germany). The police weren't fooled. With little effort, according to local press accounts, they found Xiao at a friend's house, watching the World Cup.
Xiao's story is extreme, but in China at least, not all that shocking. Gambling is a national pastime; many sports are just an excuse to place more bets. Since early June, it's been almost impossible to have a conversation with a Chinese World Cup fan without hearing about the bets he or she has placed, and the money lost or gained. The trend is especially pronounced on social media where, thanks to legal gambling apps, the casual fan can toggle between talking about bets, and then betting, with the slide of a thumb. According to China's state-run lottery regulator (China's lotteries also run legal sports books), after only the first two weeks of games, legal Chinese bets on the World Cup totaled $642 million, or near double the total bets made in 2010.
And that's just the legal gaming. As any visitor to China can attest, card games seem to be available on every street corner (or in apartment buildings, such as mine, where the elevator doors regularly opened to random games during the years I lived there). So -- if one cares to ask -- are sports books. The smartphone has taken activities that were happening anyway and made them virtual - as well as highly, highly lucrative. In June, China's state news agency Xinhua estimated that offshore online gaming accounts for as much as $161 billion in capital flight annually (equal to roughly 2 percent of GDP), calling it "a serious threat to national economic security." During a World Cup year, that number is likely even larger. The Macau Gaming Inspection and Coordination Bureau, overseer of the semi-autonomous Chinese gambling mecca across the border from Guangdong Province, reported that revenue fell 3.7 percent in June -- its first decline since 2009. The cause? Punters placing their bets on World Cup matches rather than the roulette wheel.
There are winners and losers in this virtual national casino, but it's the losers who seem to garner the most attention. For example, early last week state media reported that middle school students in Tianjin had discovered online gaming, and spotlighted one college student who'd lost more than $1,500 by betting on World Cup matches. He lived to tell the tale at least -- unlike a student in Guangdong who jumped to his death after running up $3,000 in betting losses early in the tournament. The tragedy engendered a brief moment of national reflection -- and then the betting resumed.
These days, gambling-related suicide jokes are all the rage in China. Spain and Portugal eliminated? "The roof is crowded," tweeted one snappy Sina Weibo microblogger, using a punch line that's become a sort of catch-all summation for any and all World Cup upsets. If that's too rough, there's always the approach taken by a screenwriter in Anhui Province, who tweeted after a hard loss: "Goodbye world! My last message to you is enjoy football without gambling."
Of course, World Cup humor doesn't all have to be morbid. On Tuesday one IT manager offered his version of a joke that has been floating around China's Internet for a while now: "A friend of mine became a millionaire off soccer gambling! When I ran to ask him how he did it, he said he used to be a billionaire."
This week, as the World Cup wraps up, and gamblers count their losses (and occasional gains), there likely won't be much if any reflection as to whether or not all of this betting is good or bad for China, much less its ability to enjoy the World Cup. China's homegrown Super League resumes play late this week, ensuring that the country's energized gamblers will have a seamless transition into localized bets. Business guarantees to be good.
This column does not necessarily reflect the opinion of Bloomberg View's editorial board or Bloomberg LP, its owners and investors.