A Soviet Leader Who Saw Russia Clearly
There's a lot the West could have learned about the current Ukraine crisis from Eduard Shevardnadze, the former Soviet foreign minister and president of Georgia who died today at 86.
by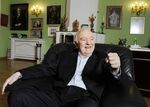 Eduard Shevardnadze, the former Soviet foreign minister and Georgian president who died today at age 86, wasn't an effective leader. Had Western leaders paid closer attention to what he said when he was alive, though, they would have been better prepared for the today's crisis in Ukraine.
For the last 18 years of his political career, Shevardnadze was mostly swept along by the tide of events. Mikhail Gorbachev pressed him into service as foreign minister in 1985, despite his protests that he had never worked as a diplomat or learned a foreign language. As such, he played a key role in dismantling the brutal regime built in large part by another Georgian, Josef Stalin, whose prison camps his father had barely avoided. Germans are still grateful to both Gorbachev and Shevardnadze for their country's reunification, which the former Soviet foreign minister described in his memoir as inevitable: "There was no other logic."
Russia was never comfortable with that logic. In December 1990, Shevardnadze abruptly resigned, ostensibly to warn Gorbachev that a backlash was brewing within the party hierarchy. In 1991, Shevardnadze watched the attempted coup d'etat from the sidelines, returning to the foreign ministry only briefly to help Gorbachev with the futile task of salvaging the Soviet Union in some form. He rightly saw the dangers in Ukraine's decision to secede from the union, noting Russian nationalists' early calls for the return of Crimea, which Nikita Khrushchev had made part of Ukraine.
In 1992, the field commanders who had deposed independent Georgia's first president, Zviad Gamsakhurdia, invited Shevardnadze to return to his homeland and lead it. As he freely admitted, he was never fully in control. Contrary to his orders, one of the military commanders who had brought Shevardnadze to power led troops to the separatist region of Abkhazia. Shevardnadze tried to stop the advance and even negotiated a peace with the Abkhaz leadership, sealed with a handshake in Moscow in the presence of Russian President Boris Yeltsin. Then Abkhazians, backed by Russian warships and planes as well as well-trained "volunteers" from neighboring Russian regions, such as Chechnya, struck back, and the weak Georgian army was crushed.
In other words, Shevardnadze was the first post-Soviet leader to see a Russian-backed unofficial military operation on his land. Like Ukrainian politicians today, he called it a war with Russia. Today's military operation in eastern Ukraine is as deniably but transparently Russian-backed as the 1992 war in Abhkazia was. Shevardnadze recalled in his memoirs that Yeltsin proposed splitting Georgia in two to stop the conflict. He called Leonid Kravchuk, then the Ukrainian president, to complain: "Can you imagine someone giving you a friendly recommendation to split Ukraine in two?"
"The centuries-long process of expansion and 'collection' of other nations' lands by Rusasia continues in the 21st century," Shevardnadze wrote more than a year before Russian troops openly entered Georgia in 2008 and Moscow recognized the separatists states of Abkhazia and South Ossetia.
Nobody was listening to him by then. In 2003, Shevardnadze was deposed by Mikhail Saakashvili, riding a wave of popular discontent with, among other things, Shevardnadze's inability to bring the breakaway regions back into the fold. The veteran politician went quietly, telling Saakashvili: "Don't worry, I have decided to resign and I'm not going to change my mind. You'd better think about tomorrow. Governing a country is a great art and a great responsibility. I would not like you to fail."
For that, he got a letter from U.S. President George W. Bush -- "Your decision to resign rather than use force on the streets of Tbilisi was a crowning moment in an outstanding career" -- but no sympathy. He lived on quietly in the Georgian capital of Tbilisi for more than 10 years, surrounded by photographs in which he's shaking hands with Ronald Reagan or meeting with Pope John Paul II. The memoir containing a clinically precise description of the roots of the Ukrainian crisis remained largely unread.
This column does not necessarily reflect the opinion of Bloomberg View's editorial board or Bloomberg LP, its owners and investors.