A Correction Is Coming
Corrections are a normal part of financial markets.
by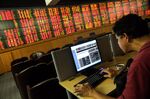 Welcome back from the long holiday weekend. Before we left for our nation's birthday celebration, markets had a little party of their own: The Dow had broken 17,000, the Standard & Poor's 500 Index had touched a record high and was spitting distance from crossing 2,000. Even the small-cap indexes such as the Russell 2000 and the S&P 600 have notched new highs. And the Nasdaq, up 255 percent since the March 2009 low, is less than 15 percent away from the record set in the dot-com-era market of 2000.