Editorial Board
Who Will Be Afghanistan's Al Gore?
Afghanistan's feuding presidential candidates must put the national interest in a successful transition ahead of their own political fortunes.
by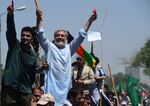 Afghanistan was supposed to release preliminary results from its June 14 presidential runoff this week. Instead, it delayed them until next week to give its Independent Election Commission time to audit ballots from 1,930 polling stations in 30 provinces.