Thursday Baseball Blogging: Holiday Edition
A special holiday edition of Friday Baseball Blogging.
by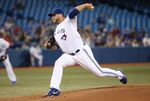 A twist on last week's theme: Which player from each American League team is most likely to wind up in the Hall of Fame?
This week, it's the Junior Circuit's turn. Once again, I'm going down the standings for each division and moving east to west.
Toronto: Jose Bautista is 33 and has 228 home runs. That's not going to get him into the Hall of Fame. Rather than pick a rookie, I'll go with Mark Buehrle. He's 35 years old and has 196 wins. He could get another 50 and there's an outside chance he'll really turn it on and approach 300 wins. I know people don't consider Buehrle to be Cooperstown-bound, and, of course, he could just as easily have fewer than 20 wins over the remainder of his career, but he's closer than you think.
Baltimore: There is no obvious choice, but Adam Jones is only 28 and has almost 1,100 hits. I don't think he'll last as a regular player until he's 40, but if he does, he'll have nice numbers for his career.
New York: Even those of us who believe that eventually all the steroids guys will get into the Hall of Fame have to admit that Derek Jeter is a more likely candidate than Alex Rodriguez.
Boston: Some won't support him, but David Ortiz is probably going to make it. He's No. 132 on the Hall of Fame Monitor, and he's going to improve. Not everyone over 140 on the monitor gets in, but most do (and maybe, eventually, the rest will, too).
Tampa: David Price has done more in his career than Evan Longoria, and Price is a better player right now. On the other hand, he's a pitcher. I'll still say Price.
Detroit: Justin Verlander has been great, but Miguel Cabrera is the easy selection. He's already 14th all time in MVP shares and will be adding to that. He probably passes the "hit by a bus" test already.
Kansas City: We're in pick-a-rookie territory here, I guess. I'll choose Danny Duffy because he's on my fantasy baseball team. Salvador Perez is young enough and he could still improve a lot, but he would need to. It's hard to see anyone on this team actually making it, but with pitchers, you never know.
Cleveland: I think this might be the toughest team yet. I count four young players who have shown some flashes of at least All Star-level talent, but none of them (Michael Brantley, Jason Kipnis, Carlos Santana -- and how does Lonnie Chisenhall have a slugging percentage of .560 halfway through the season?) appears to be heading to the Hall of Fame. It's hard to go with Trevor Bauer when he hasn't even succeeded in the majors. It's tough to pick any of their other pitchers, either. The rules say that I have to pick someone, so I'll say Brantley.
Chicago: Adam Dunn has passed 450 home runs and is still going fairly strong as a 34-year-old. He probably has to reach 600 home runs to get the attention of the voters, though. He has a better chance than Paul Konerko. So it's between Dunn and Jose Abreu, another rookie. I'll go with Dunn.
Minnesota: Joe Mauer is the clear candidate.
Oakland: Several pitchers could be candidates if everything goes right. Josh Donaldson, Yoenis Cespedes and, I suppose, Derek Norris could, but I don't think they will. Scott Kazmir? Sure.
Los Angeles: Mike Trout will be a Hall of Famer. Albert Pujols already is one.
Seattle: Bow down to the King: Felix Hernandez.
Texas: I don't have to try to figure out Prince Fielder's career because Adrian Beltre is a Hall of Famer.
Houston: Jose Altuve. He's done more than George Springer, let alone Jon Singleton.
This column does not necessarily reflect the opinion of Bloomberg View's editorial board or Bloomberg LP, its owners and investors.