Reading the Jobs Report's Tea Leaves
Mohamed El-Erian goes inside the strong monthly jobs report to analyze its potential impact on the economy and financial markets.
by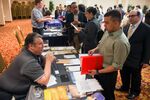 Today's strong jobs report is good news for Main Street but more uncertain for policy makers and, therefore, may prove a little unsettling for Wall Street -- though the implications for the latter two constituencies aren't immediate.
First, some context.

While total employment has now firmly surged past where it stood back in 2008, the labor market is still transitioning from simply recovering cyclical job losses to also bolstering workers' earnings and making a bigger dent in the more stubborn problem of persistent job losses associated with structural unemployment.

To understand what's happening in labor markets, we need to go beyond the two headline grabbers that came with today's jobs report -- namely, the number of jobs created in June (a much greater than expected 288,000, which was nicely accompanied by a 29,000 upward revision to jobs figures in the prior two months) and the unemployment rate (down to 6.1 percent according to the most-widely followed measure, its lowest level since 2008). We also need to look at a much broader set of numbers buried in the report.
Related: Jobs Report Is Happy Economic Whiplash
Reinforcing what is now five straight months of job increases of more than 200,000, June job creation was nicely spread among many sectors. There was also a decline in long-term unemployment as well as an increase in average earnings, though both moves were rather modest.
Meanwhile, the 0.2 percentage point drop in the unemployment rate was genuine (in the sense that it was not the result of a lower labor participation rate). That drop was also accompanied by a decline in the "U-6," the broader measure of unemployment which includes not just the unemployed, but also the underemployed and those who want jobs but aren't actively looking.
These important employment gains are unambiguously good news for Main Street. At the same time, they raise some interesting questions for policy makers in general, and the U.S. Federal Reserve in particular.
The jobs challenge for the U.S. continues to shift from recapturing lost cyclical jobs to bolstering wages and productivity while improving the prospects for the long-term unemployed and those who have dropped out of the labor force. This makes the Fed policy equation trickier, particularly when it comes to the trade-off between stimulating jobs and fueling financial instability down the road. It also highlights the extent to which other Washington policy makers, constrained by Congressional polarization, have been too slow to deploy measures that would help the labor market function better.
Related: Sunny Jobs Report Won't Save Democrats
We know what this means: The trickier the policy challenge becomes for the Fed, the greater the prospects of more unsettled times for financial markets down the road.
So far, financial markets have benefited enormously from a gradual, "Goldilocks" economic healing that, while consistent over time, isn't strong enough to undermine central banks' significant support for asset prices -- nor weak enough to threaten prolonged recession and deflation.
Financial markets have also benefited from the policy stance of central banks in Europe that, as demonstrated today by comments from the European Central Bank and actions by its Swedish counterpart, are becoming more accommodative toward monetary and credit easing rather than less.
For her part, Janet Yellen, the chair of the Federal Reserve, is leaving no doubt as to where she stands on these issues. In a set of frank remarks yesterday at the International Monetary Fund, she made it clear that her concerns about the policy trade-off are alleviated by her faith in macroprudential policies -- that is, the ability to target excessive risk-taking directly rather than using interest rate hikes to rein in errant and potentially damaging behavior.
If this robust June jobs report is repeated in the months ahead -- and it remains a big if given still-weak wage growth dynamics and structural headwinds -- the Federal Reserve would do more than completely exit its asset purchase program, also known as quantitative easing. It would also have to accelerate its interest rate hikes.
Until then, financial markets will continue to benefit from central banks that are ready to bet big on the trade-off between greater economic gains today and possible financial instability in the future.
This column does not necessarily reflect the opinion of Bloomberg View's editorial board or Bloomberg LP, its owners and investors.