Prophet of Basel Battles Yellen, Draghi and Easy Money
Right after BIS head Jaime Caruana called for tighter monetary policy, Western central bankers promised to keep it flowing.
by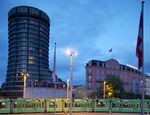 It is painful to see how out of sync Jaime Caruana is. The general manager of the Basel-based Bank for International Settlements, Caruana wants to remove the punch bowl from a party that other monetary policymakers claim hasn't gotten started. Less than a week ago, Caruana called for an end to ultra-low interest rates, saying they were no longer helping to stimulate demand. The increased risk-taking fostered by lax monetary policies, he added, might not "turn into productive investment." In the short time since his speech, his view has been rebutted by Federal Reserve Chair Janet Yellen, Bank of England chief economist Andy Haldane, European Central Bank President Mario Draghi and Sweden's central bank.