Jobs Report Is Happy Economic Whiplash
Today's jobs report is great news, not evidence of a dark statistical conspiracy.
by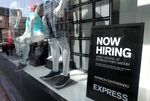 The latest jobs report is great news. There were 288,000 new jobs in June, with the unemployment rate dropping to 6.1 percent. Don't get me wrong: Labor force participation is still down from 2007, and we need a lot more of these months to get back to where we were. But still, this is very happy news for anyone who has been concerned about the state of America's job market -- which should be everyone.
QuickTake Monthly U.S. Jobs Report
This does raise an interesting question, however: How do we square this with the terrible, horrible, no good, very bad report on gross domestic product? If the economy contracted 2.9 percent in the first quarter, isn't the labor market just barely staggering along?
The obvious answer is that whatever happened in the second quarter -- a genuine weakening in the economy, or strange statistical noise -- we're now bouncing back. The labor market is gaining strength, and stock indexes are solid. We still have a huge problem with long-term unemployment, but as long as you managed to maintain employment during the Great Recession, the job market for you is now about back to normal.
The nonobvious answer is that the jobs figures are being fiddled with by the Barack Obama administration to deceive people into not noticing that the economy is terrible. This is also the wrong answer, for all manner of reasons:
If it's fiddling the labor stats, why not the GDP numbers?

If it's fiddling the short-term unemployment numbers, why not the long-term unemployment numbers?

If it's fiddling with the statistics, why aren't we hearing advanced reports of catastrophic news on the corporate earnings front? By now, analysts would have noticed their corporate contacts getting all shifty-eyed when talking about their businesses.

It would be incredibly hard, in these days of easy Internet access, to run a massive, government-wide conspiracy involving hundreds or thousands of civil servants. Even if those civil servants voted for Obama.

These jobs numbers are good. Maybe not as good as we wish they were, but good. And that means that the economy is probably doing all right as well.
This column does not necessarily reflect the opinion of Bloomberg View's editorial board or Bloomberg LP, its owners and investors.