Building Stuff Is Better Than Nothing
This is the time to invest in upgrading America's deteriorating infrastructure.
by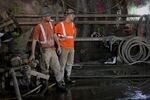 John Cochrane, the University of Chicago Booth Business School finance professor and blogger, has an op-ed in the Wall Street Journal about fiscal stimulus. Cochrane thinks stimulus isn't the answer, and cites his own research to show that the economic models used to justify stimulus spending are on shaky ground. Instead, he thinks that erratic government policy, taxes, regulation, and ham-handed attempts at redistribution are to blame.