Tinder Suit Isn't Just About Tech Sexism
A female co-founder of mobile app company Tinder sued it for discrimination after a painful breakup with her boss. It looks like another tech industry misogyny story but it's more complicated than that.
by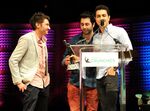 Tech-industry sexism is well-documented, yet the harassment and discrimination lawsuit brought by Whitney Wolfe against the mobile app company Tinder, its parent Match.com and majority shareholder IAC is especially poignant: Tinder is a dating app that owes its success partly to Wolfe's marketing efforts targeting young women.
The story described in the lawsuit could be a movie script. In 2012, Wolfe, then in her early 20s, worked as a marketer with a start-up team at an IAC-funded incubator. She lobbied successfully for the team to switch from developing a customer-loyalty app to a dating one, which would let users find dates based on their locations, according to the suit. She suggested promoting it on campuses and even came up with the name: "Tinder helps to light a flame, which had obvious dating analogies."
Since Wolfe was the app's public face and the media lit on her as that rare animal in tech -- a woman executive -- Tinder CEO Sean Rad allowed her to call herself a co-founder. In an article quoted in the lawsuit, the Wire wrote that women accepted Tinder in part because "one of its four founders, Whitney Wolfe, is a woman."
Tinder quickly became a hit. It is now No. 1 in the Lifestyle category in the U.S. App Store and the 45th most downloaded app overall. It has millions of users: In February, it reported making 10 million matches a day (two users have to like each other's profiles to produce a Tinder match).
Then Rad hired Justin Mateen as chief marketing officer and Wolfe's boss, thew suit claims. Within two months, by November 2012, he was allegedly interested in Wolfe romantically and she responded to him. It didn't work out: Mateen proved intensely jealous and Wolfe found him too controlling. Their text exchanges, attached as exhibits to the suit, paint a too familiar picture of a deteriorating relationship, in which Wolfe goes from trying to calm Mateen ("I won't engage when you're attacking and accusing. If u want to be sweet and loving I'm happy to respond") to trying to break off communication ("And please stop for the last time. You are harassing me.")
According to Wolfe, Mateen took his frustration out on her at work and at corporate events, calling her names and bad-mouthing her to colleagues. She took the matter to Rad, but allegedly he took no action. In April 2014, Wolfe resigned, with Rad treating her as a legal threat. That exchange is also attached to the lawsuit. "I just want to leave peacefully," Wolfe texted at one point. "I am not suing anyone OMG!" Rad was implacable: "Email me now saying you're quitting... No more texts."
If Wolfe's chronicling of what happened is accurate, Mateen and Rad were in the wrong. Mateen used his position as Wolfe's boss to damage her, and Rad failed to intervene. After the lawsuit was made public, IAC moved to suspend Mateen. Still, Wolfe's treatment should be seen as more than just another exhibit in the sorry pantheon of tech sexism, from the frat e-mails of Snapchat founder Evan Spiegel, to the HBO sitcom Silicon Valley, in which the only recurring female character is an executive assistant.
According to a survey of HR professionals conducted last year by the Society for Human Resource Management, 42 percent of companies have policies that limit workplace romance, compared with 20 percent in 2005. In 99 percent of the companies that have adopted such policies, relationships between bosses and subordinates are verboten. Tech startups probably won't have adopted these rules, but there is a good reason why companies are doing so: Not all matches are made in heaven and some deteriorate into hell, making it impossible for people to keep working together. When that happens, chances are that the boss (usually the man) will stay and the underling will have to leave.
Wolfe makes her ex-boyfriend and Rad out to be misogynists, who repeatedly omitted her from the list of Tinder co-founders because she was a young woman and that "devalued the company." If so, she did a great job of fighting that perception. She was rewarded with a high profile in the media as well as the share options due to a co-founder. Then she got involved with Mateen and lost it all. In another company, with better workplace rules, one of the two would have had to move departments or resign once they began dating -- and that's the smart thing to do, with or without rules.
This column does not necessarily reflect the opinion of Bloomberg View's editorial board or Bloomberg LP, its owners and investors.