France Needs Cleaner Leaders
Nicolas Sarkozy is the first ex-president of France to be detained for questioning, but he is the third in a line of leaders who faced criminal charges. Mainstream French parties need leaders who come across as less sleazy.
by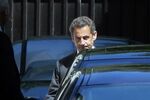 French justice is getting progressively harsher on the country's ex-leaders. Perhaps voters will get tough on politicians, too, only be careful what you wish for: in today's France, that might put nationalists in power.
In an unprecedented move, former President Nicolas Sarkozy was held for questioning yesterday in connection with allegations that he offered a prestigious job in Monaco to a judge, in exchange for sensitive information about the investigation of Sarkozy's 2007 campaign funding.
Sarkozy's predecessor, Jacques Chirac, set another precedent in 2011, becoming the first former French head of state to be convicted of a crime since the Nazi collaborator, Marshal Philippe Petain. Chirac received a two-year suspended sentence for paying members of his political party for non-existent municipal jobs while he was mayor of Paris.
Francois Mitterrand, who preceded Chirac in office, was never convicted of any crime. However, he got a less-than-honorable mention in the November, 2005 court ruling -- almost a decade after his death in 1996 -- in a case involving the illegal wiretapping conducted by the president's special "anti-terrorist cell" in the 1980s. Former members of the unit were convicted, but the court named Mitterrand as the person who was primarily responsible for its actions.
The way this progression is going, Sarkozy may well become the first French president since Petain to serve time (the maximum possible sentence for corrupting a judge is 10 years). His name has been connected with as many as six cases, though he has denied all of the accusations and none have been proved. These involve:
a large settlement the state paid to entrepreneur Bernard Tapie (Sarkozy was alleged to have intervened in exchange for campaign backing);

arms-trade kickbacks in the 1990s to help fund former Prime Minister Edouard Balladur's presidential campaign, in which Sarkozy was active;

favoritism in handing out government contracts to polling companies;

illegal campaign financing through Bygmalion, a communications agency that allegedly charged Sarkozy's party, UMP, for non-existent events, possibly to mask overruns in Sarkozy campaign spending;

abusing the feeble state of nonagenarian L'Oreal heiress Liliane Bettencourt to obtain funding for his 2007 campaign;

and finally, the affair that led to the former president's being held for questioning: the campaign funds Sarkozy allegedly received from the late Libyan dictator Muammar Qaddafi.

Sarkozy's supporters want him to run for president again in 2017, and he appears to miss the attention and power that his former office provided. That may be difficult with all this unresolved if unproven baggage, however.
The possibility that Sarkozy and his lawyer tried to bribe a judge to obtain information about the Libyan financing affair came up when investigators listened to clandestine recordings of the two men's phone conversations. For secrecy's sake, Sarkozy used a phone registered under the assumed identity of a Paul Bismuth, but the precaution appears to have failed. Regardless of whether the tapping of the former president's phone as he spoke to his lawyer was legal, the damage to his reputation is grave.
It's worth remembering that when Francois Hollande defeated Sarkozy in 2012, the latter was the least popular president of the Fifth Republic. Hollande has since crushed his predecessor's unpopularity record, but the ex-president still has many detractors.
From 1981 until at least 2012, the country was governed by people suspected or convicted of having committed crimes. Hollande has not been accused of anything more serious than marital infidelity, but that is hardly enough to redeem France's political elite. No wonder the French are looking for alternatives -- and finding one in the ultranationalist National Front, which did unusually well in March municipal polls and finished first -- with almost 25 percent of the vote -- in the European Parliament elections in May.
To resist the rise of the extreme right, France's mainstream political parties need to put forward leaders who have fewer skeletons in their closets. So far, the country's powerful judiciary is doing its job better than the politicians are doing theirs.
This column does not necessarily reflect the opinion of Bloomberg View's editorial board or Bloomberg LP, its owners and investors.