Blackwater and Ex-Im Privateers
There aren't many targets of opportunity left. Growth industries such as war and incarceration are fully mature.
by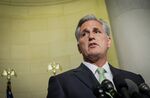 What will Republicans want to shut down and privatize next once they get their way with their current pet peeve, the innocuous Export-Import Bank?
How about the U.S. Mint? Printing money is easy and counterfeiters offer a skilled pool of labor. The national parks? Anyone can dress up as Smokey Bear and manage a geyser or two. Private contractors already run the Pentagon, so why not just replace the generals and other middlemen with the company that virtually ran the war in Iraq, Blackwater (or Xe Services or Academi, or whatever alias it uses these days)?

This sounds ludicrous, but at one time, so would the notion of allowing snack-food companies to take over food prep at the country's schools. Domino's Pizza now feeds lots of our schoolkids with no-topping pies (and may be responsible for getting tomato paste classified as a vegetable).

So when the new House majority leader, Kevin McCarthy, said the private sector can do the job of the Ex-Im Bank better, the only surprise was that there will be relatively little for the private sector to pick over in the carcass of the bank. The loans it makes to foreign companies that buy U.S. products are not profit centers. Private banks would have to charge so much interest to make money that small businesses, which benefit most, would suffer.
Poor Republicans. There aren't many targets of opportunity left. Growth industries such as war and incarceration are fully mature. And the way those mass endeavors have been handled should make privatization a dirty word, not a lofty goal.
A spate of investigations into corporations doing what government used to do show that delicate matters such as criminal justice and killing should remain the province of government. Otherwise, real people -- not to mention the country -- get hurt.
Take Iraq, which was inundated with private security companies running amok. Blackwater has long been controversial, having paid $5 million to $7.5 million in fines for trading in illegal arms, bribing officials and lying about it. It's had a shady reputation almost from the moment it was hired by the George W. Bush administration and moved into Baghdad. By the time the State Department tried to monitor its operations -- calling it "an environment full of liability and negligence" -- Blackwater had become a government unto itself. According to the New York Times, its top manager issued threats, saying that "he could kill" the government's chief investigator and "no one could or would do anything about it."
The Blackwater manager had a point, given conflicting interests among government agencies. Part of the U.S. government (read: the Pentagon off-loading its duties) had a cozy relationship with the company, while other parts (read: the State Department) saw it as violating the criminal code.
The inquiry was abandoned. Among Blackwater's many failings, the bloodiest may be the killing of 17 Iraqis, including a child, in the center of Baghdad. One guard testified that two contractors high-fived each other after it was over. Four Blackwater employees are on trial in connection with the deaths.
OK, so maybe war is an iffy way to make money. Managing prisons, however, seems like a safe bet. The U.S.'s dubious record for holding huge numbers of inmates has spawned a booming business. Although many companies have been dumped for allowing deaths, gangs, riots and daily violence, the largest privateer, Corrections Corporation of America, is still thriving, running close to 70 facilities.
There are many downsides to private prisons -- they often end up costing more and doing less -- but the worst is the incentive to keep the cells filled, starkly stated by CCA in a 2011 Securities and Exchange Commission filing: "The demand for our facilities and services could be adversely affected by the relaxation of enforcement efforts, leniency in conviction or parole standards and sentencing practices or through the decriminalization of certain activities."
But privateers shouldn't worry about their revenue streams. As investigations by NPR and the New Yorker recently found, the government has discovered a new way to supply a steady stream of deadbeats: privatizing the pipeline that arraigns, indicts, tries and paroles criminals.
The investigations documented the insidious practice of making those arrested for minor crimes pay the costs of their arrests, as well as for the rights guaranteed by the Constitution -- such as a hearing and a jury trial. (In Washington state, a 12-person jury costs the defendant more than a six-person one.) Sounds like hyperefficiency mixed with tough love. In practice, however, a poor person who commits a petty crime is soon caught in a cycle of compounding interest and late charges that lands them back in prison.
NPR reported on a Georgia man who ended up serving 12 months for stealing a beer after his costs for an electronic monitoring device and a private probation officer reached $400 a month. A homeless Iraq vet in Michigan, with $35 to his name, spent 22 days in jail to pay off the fees he racked up after stumbling into an abandoned building.
Forget the promise that if you can't afford a lawyer, one will be appointed for you. In 43 states, defendants can be billed for a public defender, as well as a DNA sample and an ankle bracelet. Once out, you have to pay for your parole officer and court-ordered rehab, and you will be sent back to prison if you can't keep up.
In Washington, you can opt to pay your fees through community service -- but only after paying $5 a day for the privilege. Charles Dickens couldn't make this up.
Behind bars, privateers run wild, charging a captive audience an arm and a leg for a phone call or debit card. No one cares if inmates are gouged.
With so little to show for privatization, you'd think Congress would leave Ex-Im Bank be. Wait for those usurious rates to kick in and for Boeing to be unable to sell a plane to Singapore Airlines. Airbus will be thanking Kevin McCarthy, if no one else does.
This column does not necessarily reflect the opinion of Bloomberg View's editorial board or Bloomberg LP, its owners and investors.
To contact the author on this story:
Margaret Carlson at mcarlson3@bloomberg.net
To contact the editor on this story:
Max Berley at mberley@bloomberg.net
Before it's here, it's on the Bloomberg Terminal.
LEARN MORE