Why You Should Pay for Congress' Junkets
House Ethics Committee moves to end practice of members disclosing who funds their travel.
by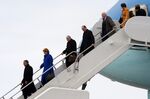 Oh, Congress -- in this case, the House of Representatives -- you make it so hard for your apologists.
Case in point: thanks to some alert reporting by National Journal's Shane Goldmacher, the House Ethics Committee [snort] has been caught ending the requirement that members report who paid for their overseas junkets on annual disclosure forms, where most reporters and other observers normally go to look for such information.
See: I'm perfectly ready to write a defense of these expeditions. Well, I'd rather, I suppose, that Congress just dunned taxpayers for their fact-finding trips to world trouble spots (even when the travel includes side-trips to world-class beaches, spas and other resorts). I want politicians who vote on world affairs to see at least one version of the world, and I don't care if the way to get them to do it involves some nice perks.
So my first choice would be to have taxpayers foot the bill, but I can live with private funding. But, c'mon, private funding should go with disclosure. And to have disclosure, and then cut back on it without any announcement and just hope no one would notice?
Even worse, perhaps, the new plan, as Goldmacher explains it, will still require members to report their junkets to the House, but not on "the chief document that reporters, watchdogs, and members of the public have used for decades to scrutinize lawmakers' finances." It's not even clear that there's any helpful reduction in paperwork out of this; it apparently just makes it a lot harder to figure out what's going on. Why? Apparently, just because they can.
One might have thought that House Republicans, in particular, would be extra careful to avoid any messy ethics problems given how their last turn as the majority ended.
To contact the author on this story:
Jonathan Bernstein at jbernstein62@bloomberg.net
To contact the editor on this story:
Max Berley at mberley@bloomberg.net
Before it's here, it's on the Bloomberg Terminal.
LEARN MORE