Why Turkey Now Wants Iraq to Break Up
Turkey's presidential elections may well play a role in the creation of an independent Kurdish state.
by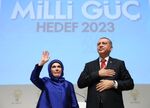 The president of Iraqi Kurdistan, Massoud Barzani, chose to announce plans for a referendum on independence today -- the same day Turkish Prime Minister Recep Tayyip Erdogan picked to announce his bid to run for president. If that's a coincidence, it's a significant one.