Editorial Board
The EU Plays Into Putin's Hands -- Again
The European Union validates yet again Vladimir Putin's decision not to take it seriously.
by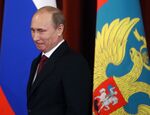 There are few things in the world less threatening than a meeting of European diplomats. This was demonstrated yet again today when European Union officials met to discuss how to respond to Russian President Vladimir Putin's aggression toward Ukraine.
They had set an ultimatum for Putin on Friday: Rein in Russian-backed separatists in Ukraine and agree to seal the border by Monday or face "significant restrictive measures." The deadline arrived, Putin ignored it and ... EU leaders agreed today to think about it.
Some European countries, apparently, thought the situation in eastern Ukraine remained too uncertain to make a decision. If so, they're playing right into Putin's hands. Creating uncertainty is at the core of his strategy. His goal is to destabilize Ukraine while avoiding economic sanctions by the EU, which is Russia's biggest trading partner. Of course things are unclear. They are designed to be unclear.
Last week, the EU made four demands: that Putin agree to a verification mechanism for a cease-fire and effective control of the border; that separatists return three captured border posts, between rebel-held areas and Russia, to Ukrainian government control; that all hostages held by Russian-backed separatists be released; and that negotiations begin on a peace plan proposed by Ukrainian President Petro Poroshenko.
Late on Monday, Putin accepted part of one of these requirements, agreeing to let personnel from the Organization for Security and Cooperation in Europe monitor the Russian side of the border. Meanwhile, Poroshenko was forced to end the cease-fire -- which at any rate had never been reciprocated -- in the face of continuing attacks on Ukrainian forces. (Putin's response: The Ukrainian president bears full "political" responsibility for all that follows.) Putin can afford to wait for Ukraine's less-than-formidable troops to get bogged down in a war with Russian-led and -supplied rebels, and for Poroshenko's political support to ebb and Ukraine's central authority to disintegrate.
The question for EU leaders is whether they are willing to let this happen. So far, the answer seems to be yes.
None of this should come as a surprise. On Monday -- the same day French President Francois Hollande joined a phone call with Poroshenko, Putin and Germany's Angela Merkel in a failed attempt to secure an agreement -- 400 Russian sailors arrived in France to start training on one of two helicopter carriers that France still plans to deliver to the Russian navy. Also on Monday, Italy declared its continued support for building a natural gas pipeline designed to circumvent Ukraine's gas transit system for delivering Russian gas to the EU.
With taskmasters such as these, Putin knows the likelihood of the EU imposing meaningful economic sanctions is low -- so long as he doesn't launch an outright invasion of Ukraine. To show Putin he's wrong, the EU needs to follow through on its ultimatum by sanctioning Russian corporations and other well-defined economic targets, thus demonstrating its willingness to go further. So far, the EU has yet to give Putin a reason to take its threats seriously.