The WNBA's Tepid Embrace of Gay Fans
The WNBA is reaching out to the LGBT community; just not all the way.
by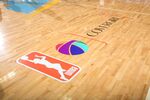 Last weekend, the Women's National Basketball Association introduced its Pride initiative, celebrating the rights of lesbian, gay, bisexual and transgender people and their inclusion in sports and society. It's an important step for a league that boasts a large fan base in the LGBT community and features many prominent, and out, successful lesbian athletes.
There have been suggestions that Pride is more about style than substance, however. The Seattle Times' Jayda Evans noted that, save for a 60-second segment celebrating LGBT history and discussing anti-bullying efforts, the telecast of the Pride game barely mentioned anything pertaining to gay and lesbian issues.
"The pitch was just a gimmick," she wrote. "The ESPN2 broadcast left an impression it's still taboo to be overtly celebratory about the LGBTQ community."
The WNBA has had a complicated and tenuous relationship with the LGBT community. In the past, the league ignored its gay fans and players in an attempt to gain mainstream appeal and overcome the" butch" stereotype of women's basketball. As Evans notes, the league embarked on its Pride initiative only after market research convinced its executives that ignoring a key demographic wasn't smart business.
The WNBA seems to have come to its senses, at least from a marketing standpoint,. The official sponsor of WNBA Pride is CoverGirl and, according to a list provided by the league, the regular marketing partners for the 2014 season are Adidas AG, American Express Co., Anheuser-Busch InBev NV, BBVA Compass Bancshares Inc., Boost Mobile, Cisco Systems Inc., The Coca-Cola Co., Diageo PLC, Electronic Arts Inc., ExxonMobil Corp., Gatorade, The Proctor & Gamble Co., SAP AG, Samsung Electronics Co. Ltd., Spalding/Russell Athletic, State Farm Mutual Automobile Insurance Co. and Taco Bell.
Of these companies, American Express, Cisco, Coca-Cola, Diageo, EA, Procter & Gamble and SAP are considered among the most gay-friendly by the Human Rights Campaign, as are PepsiCo Inc. and Sprint Corp., the parent companies of Gatorade and Boost. (P&G is the parent of CoverGirl.) These companies received a perfect score on HRC's 2014 Corporate Equality Index, which rates U.S. companies in terms of LGBT hiring practices, benefits and commitment to diversity both internally and externally. State Farm also fared well, receiving a score of 95; Anheuser Busch scored 90. Yum! Brands Inc., which owns Taco Bell, came in at 80.
For the most part, the league has partnered with sponsors that have good records on LGBT issues. As foreign companies, German-owned Adidas, and South Korea-based Samsung were omitted, but Samsung did place ninth on YouGov's Brand Index, which lists companies perceived favorably among the LGBT community.
There are a few red flags, especially with some of the larger companies: BBVA Compass still has much room for improvement, with a CEI score of 65. Berkshire Hathaway Inc., which owns Spalding and Russell Athletics, has a CEI score of zero. Exxon Mobil Corp., one of the leading Fortune 500 companies, received a dismal CEI score of -25.
Nonetheless, the WNBA has received and acted on the message that money talks, and is finally willing to embrace its LGBT fans -- and their dollars. For years, Nielsen has been reporting on the relatively higher buying power of same-sex couples, and urged advertisers to take advantage of the fact that such couples, on average, spend 25 percent more every year than the average U.S. household. The advertising market is starting to take notice: Sponsorship of pride parades is up this year -- anyone who attended NYC Pride can rattle off the list of mainstream companies, from AT&T Inc. to Google Inc., that sponsored floats last weekend.
The NBA has employed a similar strategy, courting Hispanics with the league's Noche Latina theme nights. If the NBA's motivation is the same, the league's failure to get it right is similar, too. Many Hispanic fans find the NBA's campaign insulting and pandering. The LGBT community and its allies are likely to see WNBA Pride as little more than lip service until the league proves them wrong.
This column does not necessarily reflect the opinion of Bloomberg View's editorial board or Bloomberg LP, its owners and investors.