Millennials 101: How to Enjoy Your Parents' Basement
The silver lining to living at home is the chance to enjoy your parents while you still have them. You won't regret it.
by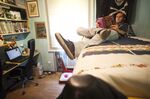 As my readers know, I graduated from my MBA program straight into my parents' spare bedroom, which is where I lived for the next three years as I tried to figure out what the heck I was going to do for the rest of my life. This did not do wonders for my self-esteem. And yet, believe it or not, I look back on the experience with fondness.