Friday Baseball Blogging: Who's Going to Cooperstown?
Let's play a game: Which player on each team is most likely to wind up in the Hall of Fame?
by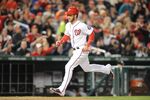 Let's play a game: Which player on each team is most likely to wind up in the Hall of Fame?
I'll take a look at the National League teams, moving down the standings from east to west. Maybe I'll do the American League next week.
Washington: I see four potential candidates, but I think I'll go with Bryce Harper over Ryan Zimmerman.
Atlanta: I thought I was going to pick Freddie Freeman, but Justin Upton will reach 1,000 hits this year, and he's only 26. His list of most similar players on Baseball Reference is awful. But, for what it's worth, I'll go with him.
Miami: Giancarlo Stanton, obviously.
Philadelphia: This is a tough one. I'm not sure I can see Jimmy Rollins or Chase Utley making it but who else is there? Utley is good enough but doesn't have the career of a typical Hall of Famer. Rollins isn't quite good enough. Cliff Lee? He's not a pitcher with a lot of wins, and that still matters to the voters. Hamels has the same problem but has more time to do something about it. All that said, I'll go with Utley.
New York: David Wright is having an excellent career. If he ages well, he'll be good enough although voters have been tough on third basemen with similar numbers. Still, if it's between him and one of the young pitchers, I'll take Wright.
Milwaukee: Ryan Braun.
St. Louis: Yadier Molina.
Cincinnati: This is another tough one. Joey Votto is the front-runner. He's definitely good enough, but for the Hall of Fame, the walks hurt him. He isn't going to get close to 500 home runs. He isn't going to get to 3,000 hits. His best chance comes if he picks up a couple more MVP trophies. That could happen, but it isn't likely. On the other hand, who else do they have? Aroldis Chapman? Billy Hamilton? None of the starting pitchers really look like good candidates at this point. I'll pick Votto.
Pittsburgh: Andrew McCutchen. I had a chance to see him play in the minors and didn't act quickly enough. That was a big mistake.
Chicago: Hmm... The Cubs have the smallest group of candidates so far. I guess I'll go with Starlin Castro. They have some starting pitchers who aren't very young and, other than being good this season, don't have much working in their favor. The Cubs have a young first baseman who is having a good season. Other than that, for this game they don't have much to offer.
San Francisco: Thinking about Tim Lincecum is actually what got me started on this subject. Has any other player with a similar career wound up in Cooperstown? The players most similar to him are excellent but, presumably, they've been better lately than he has. The players most similar to Matt Cain are a bit worse and, of course, he doesn't have the hardware. On the other hand, he's still a solid top-of-the-rotation starter. Anyway, I'll say Buster Posey and note that Bruce Bochy has a solid shot, too.
Los Angeles: Clayton Kershaw, alas.
Colorado: Who knows whether he can stay healthy, but the most likely guy is Troy Tulowitzki.
San Diego: I have to pick someone. Andrew Cashner? Yikes.
Arizona: Paul Goldschmidt is the obvious choice, but he really isn't much of a candidate. It's possible, but he has a lot to do before he gets to the Hall of Fame.
That's all of them. I hope I didn't miss any obvious candidates. Assuming I didn't, there sure aren't a lot of players who are locks for the Hall of Fame in the National League right now, are there? There are plenty of young guys who are off to good starts and mid-career guys who could get there, but they don't have a player like Derek Jeter or Albert Pujols. That must be unusual, too. Maybe I'll look that up later.
This column does not necessarily reflect the opinion of Bloomberg View's editorial board or Bloomberg LP, its owners and investors.
Corrects name of Miami outfielder in the fifth paragraph.
To contact the author on this story:
Jonathan Bernstein at jbernstein62@bloomberg.net
Before it's here, it's on the Bloomberg Terminal.
LEARN MORE