Big Four Sell Out Hong Kong
That the Big Four audit firms would choose this delicate moment –- when Hong Kong's democratic future is very much on the line -– to break corporate silence on regional politics  is shocking and shameful. 
by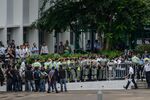 Hong Kong's pro-democracy movement better hope it never needs an accountant in Hong Kong because, as of this morning, the Big Four audit firms have gone on the record in opposition to it. Their fear and ire, expressed in a joint statement published in three of the city's most prominent newspapers, was prompted by the possibility that Occupy Central, a pro-democracy group, will hold a protest in Central Hong Kong next month, thereby paralyzing at least part of the downtown (assuming anybody shows up). Notably, the event has yet to be scheduled and -- according to the organizers -- it may not happen.
So why, then, would Deloitte, PwC, Ernst & Young and KPMG bother to issue their letter now? For the past several months, Hong Kong's political scene has been riled by a Chinese government proposal that would introduce universal suffrage into the semi-autonomous city in 2017 -- but only so long as the Chinese government gets to choose the candidate for election. In response, Occupy Central organized an unofficial referendum in which Hong Kong citizens can vote on three alternative proposals for selecting candidates for election -- all three of which involve public participation. Since the poll opened on June 20, more than 750,000 citizens have voted -- an astonishing turnout.
After the poll closes on June 29, Occupy will forward the winning suggestion to Hong Kong's government and await a final election decision. If that proposal doesn't meet what Occupy is calling an "international standard," the protest will happen.
The audit firms, however, aren't willing to wait for the Hong Kong government to reject the referendum. Instead, they issued their statement in the midst of the voting, leaving little doubt that they hope to influence it -- if only by helping to suppress the incredible turnout, which increases the poll's legitimacy by the hour -- in a manner that better comports with the strong preferences of China's ruling Communist Party. Thus, it comes as no surprise that the auditors raise the specter of social chaos and economic ruin that China's state-run newspapers so like to invoke and highlight when democracy movements in places like Egypt fail. In this sense, Hong Kong's accountants sound no better than propagandists:
"If Occupy Central happens, commercial institutions such as banks, exchanges and the stock market will inevitably be affected. We are worried that multinational corporations and investors will consider relocating their headquarters from Hong Kong or even withdrawing their businesses."
This is fear-mongering and hysteria, at best, and it completely glosses over just how necessary Hong Kong is to the global financial order, and to China's business community. Needless to say, the Big Four know these on-the-ground facts well. None of them will uproot from one of the world's global financial hubs as a result of a pro-democracy movement, and neither will the clients who pay them. They're all in Hong Kong for the long-term, benefiting from its ever-greater economic integration with China.
Along the way, however, the Big Four are not above singing for favors from the authorities who control access to so much of China's economy. In this, they're not alone. Last month the Canadian Chamber of Commerce joined its Indian and Italian counterparts in condemning the unscheduled Occupy protests; the U.S. Chamber, to its credit, has remained silent.
A free Hong Kong gives institutions the right to protest against protests -- though one that they're under no obligation to exercise. After all, U.S. and European corporations that operate in China and Hong Kong aren't known for being politically outspoken on Hong Kong or any other issue -- it's not in their interests. That they would choose this delicate moment -- when Hong Kong's democratic future is very much on the line -- to break that silence is shocking and shameful. Hopefully, it's an act of cowardice that won't soon be forgotten in Asia -- or in the democratic countries that these accounting firms still like to call home.
This column does not necessarily reflect the opinion of Bloomberg View's editorial board or Bloomberg LP, its owners and investors.
To contact the author on this story:
Adam Minter at aminter@bloomberg.net
Before it's here, it's on the Bloomberg Terminal.
LEARN MORE