Big Four Sell Out Hong Kong
That the Big Four audit firms would choose this delicate moment –- when Hong Kong's democratic future is very much on the line -– to break corporate silence on regional politics  is shocking and shameful. 
by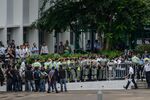 Hong Kong's pro-democracy movement better hope it never needs an accountant in Hong Kong because, as of this morning, the Big Four audit firms have gone on the record in opposition to it. Their fear and ire, expressed in a joint statement published in three of the city's most prominent newspapers, was prompted by the possibility that Occupy Central, a pro-democracy group, will hold a protest in Central Hong Kong next month, thereby paralyzing at least part of the downtown (assuming anybody shows up). Notably, the event has yet to be scheduled and -- according to the organizers -- it may not happen.