Cameron Loses, So Does Europe
U.K. Prime Minister David Cameron was outvoted on the candidacy of Jean-Claude Juncker for European Commission president. It almost makes another Cameron defeat necessary to keep the EU together. 
by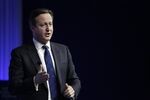 British Prime Minister David Cameron has sustained what looks like his biggest political defeat. Knowing he was destined to lose, he forced a vote among European leaders on whether Jean-Claude Juncker should lead the European Commission. He lost 26-2, with only Hungary's Viktor Orban backing him.