Would John Boehner Have Sued Thomas Jefferson?
Presidential power has been a gray area since the founding of the republic, bedeviling the executive and legislative branches alike.
by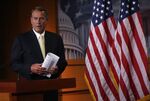 House Speaker John Boehner is suing President Barack Obama for "not faithfully executing the laws of Congress." Republicans single out the president's refusal to deport certain populations of "illegal" immigrants, the administration's selective enforcement of drug laws, as well as delays in the enforcement of the Affordable Care Act.