Russian Pensions Paid for Putin's Crimea Grab
Moscow has spent $7.2 billion confiscated from Russians' pension plans on integrating annexed Crimea. But Russia is hardly alone in raiding pensions.
by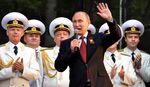 Russia's finance minister has blurted out the truth about how Russia, faced with low economic growth and all but cut off from external financing, is funding the annexation of Crimea and the peninsula's many emergencies: with $7.2 billion confiscated from Russians' pensions.
Governments in Europe and nations of the former Soviet Union have been raiding pension plans regularly since the 2008 financial crisis. No two governments have done it in exactly the same way, proving how creative highway robbery can be. In 2009, Ireland simply spent its National Pension Reserve Fund on the bank bailout that nearly bankrupted the country. One year later, Hungary offered citizens a choice between transferring privately managed pension savings to the state or losing any government pension while continuing to make contributions toward it. Last year, Poland transferred $49 billion of government-issued (and government-backed) bonds from private pension funds to the state -- then canceled them, cutting its debt level at the expense of future retirees. This year, Kazakhstan merged privately-run pension funds with the state fund, using the money to fund infrastructure projects with no payback guarantee.
Russia last October tried out a scheme reminiscent of what France did in 2011, using current workers' savings to fund current retirees' pensions.
In Russia, employers send 16 percent of a worker's income to the state pension fund, which then transfers 6 percent to a private fund if the worker has requested it. The government complained that private pension funds lacked transparency and that savings were at risk. It proposed a detailed inspection of the funds in 2014, simultaneously forcing them to transform from non-profit organizations into joint-stock companies. While all that took place, the government would collect the 2014 contributions meant for the private funds and use them to pay out current pensions. Then, in everything except its confiscation of 243 billion rubles from the private funds, the government changed direction.
In a recent interview with the business daily Vedomosti, Economics Minister Alexei Ulyukayev said it would be nice if the government refunded the confiscated pension contributions. "We need to find a source to reimburse these funds," he said. "I think this is our implicit obligation to pension contributors."
Finance Minister Anton Siluanov's response was quick and blunt. "There are no sources for this," said Siluanov, according to the news agency Interfax. "Nobody is going to refund that money because it went to Crimea, to anti-crisis measures. Now that resource still exists and it will, in all probability, go toward supporting socioeconomic development programs in Crimea and Sevastopol."
In other words, Russians born after 1967, who are entitled to make contributions to private pension funds, have been tapped to finance President Vladimir Putin's land grab.
The annexation of Crimea was a spur-of-the-moment reaction to the pro-Western revolution in Ukraine, so its economic consequences were not carefully thought out in Moscow. Crimea was a net recipient of funds from Ukraine's budget, and now Russia has to contend with higher payments for Ukrainian-supplied water and power. It has also had to raise pensions and public sector wages in Crimea to the higher Russian levels. There are also miscellaneous costs, such as restoring the peninsula's banking system and subsidizing travel to Crimea for Russian vacationers to compensate for the decline in tourist traffic from Ukraine.
Putin's government neglected to ask Russians under the age of 47 whether they wanted to pay for it all. According to an April poll, only 26 percent of Russians were willing to chip in for integrating Crimea. Fortunately for the Kremlin, people simply don't make the connection between their pensions and annexation. As Vedomosti noted in an editorial, "the loss of future payouts and the acquisition of Crimea lie on different planes." Besides, Russia's Generation X, which joined the workforce in the tumultuous 1990's, is particularly self-reliant: X-ers don't care much about any government-mandated pensions and are either saving for retirement on their own or hoping to work until they die.
Not all are indifferent, however. "I may now go to Crimea, dig a ditch around a sizable bit of, say, Yalta, put up my flag and no bastard will dare object, because that will be my specific piece of Crimea," Elena Panfilova, head of the Russian office of the corruption-fighting organization Transparency International, wrote on Facebook.
Putin's deployment of Panfilova's pension contribution is one more warning to citizens in any country with an obligatory pension scheme: Your pension contributions are not safe from the governments that collect them.
This column does not necessarily reflect the opinion of Bloomberg View's editorial board or Bloomberg LP, its owners and investors.