Howard Baker, First-Class Politician
First-rate politicians are desperately needed, and should be celebrated. And Baker was first-rate.
by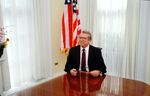 Howard Baker, American hero, has died at 88.
Baker, a Tennessee Republican, was Senate majority leader during the first four years of the Ronald Reagan administration, and he served as minority leader during the Jimmy Carter years. In 1981, he led a group of constructive conservatives -- including excellent senators such as Bob Dole and Pete Domenici -- that first enacted as much of the Reagan agenda as it could. Later, these lawmakers worked more or less productively with the very liberal Democratic House elected in 1982.
Baker also acquitted himself reasonably well on the Senate Watergate Committee, famously asking, "What did the president know and when did he know it?" He also (not without some difficulty) avoided the attempts of President Richard Nixon and his operatives to turn him into an administration stooge.
He returned to active duty after his retirement from the Senate to serve as Reagan's chief of staff after the Iran-Contra affair. It would be reasonable to attribute much of Reagan's late-term success, including the beginning of the winding down the Cold War, to Baker's success in reviving an administration that had been badly wounded.
First and foremost, however, Baker was a senator. And as with most important senators, he has been severely underrated in U.S. political culture. Senate majority leader isn't as critical a position as speaker of the House, but it's a tough job, and Baker's conference contained a diversity of members that included hard-line conservatives such as North Carolina's Jesse Helms and old-style Republican liberals such as Charles Matthias of Maryland. By all accounts, they worked well together. And even if it's important not to mythologize the past, the achievements of the Baker-led Republicans look pretty good today.
We don't often think of our politicians as heroes, other than the occasional president, but we should. In a fundamentally and radically political nation, first-rate politicians are desperately needed, and should be celebrated. And Baker was first-rate.
This column does not necessarily reflect the opinion of Bloomberg View's editorial board or Bloomberg LP, its owners and investors.
To contact the author on this story:
Jonathan Bernstein at jbernstein62@bloomberg.net
To contact the editor on this story:
Max Berley at mberley@bloomberg.net
Before it's here, it's on the Bloomberg Terminal.
LEARN MORE