Guns, Abortion and the Way Americans Polarize
Polarization doesn't just happen. On two hot-button issues, it happened by plan. 
by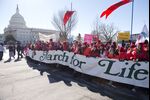 Abortion and guns, two of the most divisive issues in American politics, weren't always the stuff of partisan warfare. As it happens, they became more divisive, and more partisan, over roughly the same period -- the past 40 years. And it wasn't all happenstance -- a bit of planning went into it.