Why I Was Wrong About the Mississippi Runoff
Do mainstream conservatives conclude that the Tea Party is beatable? Or do they conclude that Cochran was almost defeated because he allowed space between himself and the radicals? 
by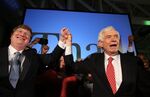 First things first: I was dead wrong about the Mississippi Republican Senate runoff. I assumed that an incumbent who finishes second in a primary is toast in the runoff, but Thad Cochran surprised me by fighting hard and winning the nomination yesterday.