U.S. Will Always Be Addicted to Oil Imports
The U.S. government has relaxed its ban on oil exports. but don't expect the nation to become a major exporter or even to gain total independence from imports.
by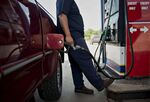 The U.S. Commerce Department has found a way to end America's 40-year-old oil export ban without canceling it. The U.S. government is right to take it slow: It would be irresponsible to believe all the shale-oil hype and officially allow crude exports.