Trade of the Day: Buy Throat Lozenges as Trading by Shouting Survives
The LME decided it will stay with the open-outcry trading system in which humans on a trading floor bellow out bids for commodities. 
by
The London Metal Exchange decided this week to preserve the tradition of traders buying and selling the six main industrial metals by shouting at each other in a trading pit.
Let's hope the custom of assigning less-than-flattering nicknames also survives; I remember being introduced to "Splinter" in the mid-1990s, the son of a market maker who went by the moniker "Plank." As Bloomberg's Agnieszka Troszkiewicz reports:
Traders often go by nicknames and not all of them, at least in the past, were politically correct. For instance, a trader nicknamed "Tick" is the son of an ex-trader nicknamed "Bug" and the nephew of another ring employee nicknamed "Flea."
So the Trade of the Day is to buy throat lozenges; as the chart below shows, the combined open interest in contracts for trading copper, aluminum, nickel, zinc, lead and tin on the exchange has been soaring this year, and perhaps the screamers can capture a bigger share of the trading in their battle with the computers.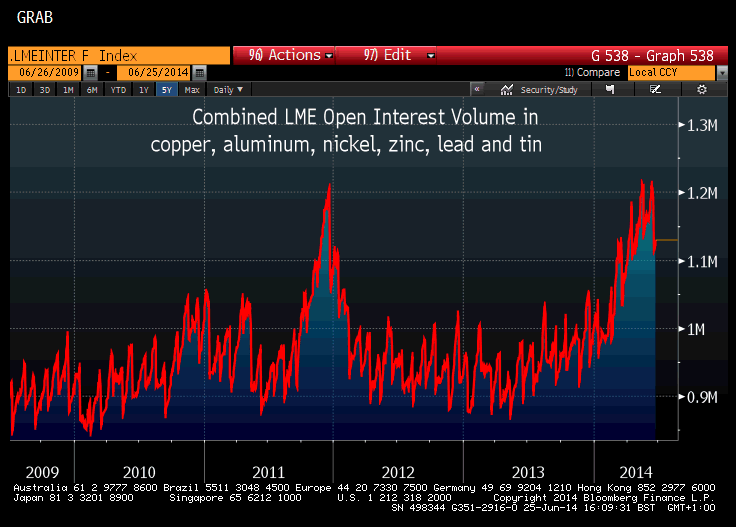 This column does not necessarily reflect the opinion of Bloomberg View's editorial board or Bloomberg LP, its owners and investors.
To contact the author on this story:
Mark Gilbert at magilbert@bloomberg.net
To contact the editor on this story:
James Greiff at jgreiff@bloomberg.net
Before it's here, it's on the Bloomberg Terminal.
LEARN MORE