Suarez Bites the Land That Feeds Him
The bigger casualty of Luis Suarez's goal zone bite may have been Uruguay's reputation. 
by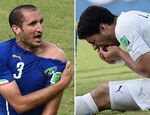 In soccer, as in politics, passions can easily get out of hand. Not least in the World Cup, where national honor and glory are on the line and 3 billion people are watching. So it's tempting to wave off Uruguayan striker Luis Suarez's attack -- he bit a defender on the shoulder in the goal zone -- in his team's match against Italy on Tuesday as one of those boys-will-be-boys moments. But since soccer has always been more than a sport, the star scorer of La Celeste – "the sky-blue one," as the team is known -- left teeth marks on more than the beautiful game.
The first victim was Suarez. This was thethird time the Uruguayan footballer has been caught biting an opponent. Last year, playing for Liverpool, Suarez turned on a rival during the Premier League championship and earned a 10-game suspension. Now the scrappy striker is the butt of orthodontic puns and Internetmemes. Even McDonald's piled on, inviting the team star to take a bite of a Big Mac instead.
The bigger casualty might have been Uruguay itself. After all, the tiny nation wedged between Brazil and Argentina had distinguished itself by promising to rise above the broken Latin American political game of crony capitalism, social apartheid and the no-win war on drugs. Here was a country run by a former guerrilla fighter, a 70-plus-year-old ascetic, who shunned ornament and power diplomacy and embraced a brazen social agenda. Jose "Pepe" Mujica legalized abortion, same-sex unions and smoking marijuana. Under him, Uruguay became the Cinderella country of the Americas. Now it runs the risk of being remembered as the land that put Hannibal Lecter in short pants.
Like the talented Suarez, this nation of 3.4 million inhabitants offers much to applaud. Start with Mujica, a former insurgent, who spent 14 years in the dictators' dungeon, then reinvented himself as a democrat, committed to free and fair elections and the rule of law. Once in office, he scorned "savage capitalism," in the argot of Latin American ideologues, but also resisted the appetites of an overfed bureaucracy. One of his first battles as president was to tame the public-sector unions, including trying to get government employees to work at least six hours a day.
Add to that his near Franciscan display of austerity. He went to work in sandals and grew his own vegetables, and donated most of his salary to charity. Hisspeech at the United Nations General Assembly last year became an instant hit on the Web. "I come from the South," he intoned, spinning his remote patch of the Americas as moral high ground.
The world took note. Once a side trip, Uruguay became a choice tourist destination, withforeign visitors doubling between 2005 to 2011. The Economist named Uruguay "country of the year" for 2013, for -- cue the violins -- having "increased the global sum of human happiness at no financial cost." So great is the goodwill toward Uruguay's spartan president that he has been promoted as Latin America's answer to the crisis of credibility assailing politicians everywhere.
But that may be as over the top as the posters in the Brazilian grandstands depicting King Suarez, wearing a World Cup crown. Rousing as it sounds, Mujica's script is a half-century out of synch. He liberalized dope but then turned its sale over to a state monopoly, while keeping a tight rein on consumers. This is a high for command-and-control bureaucrats disguised as 21st-century management. His nearly clerical cant against globalization and the perils ofmaterialismcollides with the aspirations of millions of Latin Americans just beginning to partake of a consumer market they'd only dreamed about.
In snubbing free trade anddismissinga bilateral treaty with the U.S., he condemns Uruguay to the dysfunctional South American trade bloc, Mercosur. "Mujica's vision is from the 1960s, of self-sufficiency and a world with no credit cards," says Bernardo Sorj, a Uruguayan political scientist. "This has little to do with Uruguay or the Latin America of today."
Like the talented Celeste, Uruguay's beloved leader is a man with much to admire but driven largely by raw passion and a tendency to step out of bounds. Toward both leaders, there is a huge willingness to grant indulgences and overlook danger signs. Mujica is no biter, but beatifying him does no more service to Latin America than Suarez did to soccer.
This column does not necessarily reflect the opinion of Bloomberg View's editorial board or Bloomberg LP, its owners and investors.