SEC Wants to Look at Bigger Ticks
The worry about high-frequency trading is basically that it makes markets too efficient. So the SEC is going to fix that.
by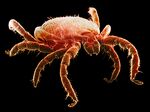 One way you could describe the debate over high-frequency trading is that it's really a debate over whether U.S. equity markets are too efficient. 1 That is: The job of equity markets is to provide liquidity and price discovery. An efficient market will provide liquidity at a very low cost, and will adjust prices very quickly to respond to changes in demand.
That sounds good, but it's not equally good for everyone. Compared to a less efficient market, a very efficient market will be:
Good for lean savvy technology-enabled liquidity providers who can profitably provide liquidity at low prices.

Bad for old-school, inefficient liquidity providers who want to charge a lot of money for providing liquidity.
Good for small investors who want to be able to buy small blocks of stock quickly without paying high commissions.
Bad for big investors who want to buy a lot of stock without moving the market price.
And all of these things seem to be true. There are electronic market makers who almost never lose money. But old-school sell-side traders complain bitterly to Michael Lewis that their business is endangered by the new market makers. Small retail investors can buy all the stock they want, instantly, with price improvement, for $8. But big hedge-fund managers feel like they're being "front-run" when they try to buy large blocks of stock and the price moves against them -- as, in an efficient market, it should.
There are other problems with very efficient liquidity provision. The lean, savvy modern liquidity providers are different from the old bloated liquidity providers. In particular, they're much more risk-averse: High-frequency electronic market makers make much less profit per trade than old-school New York Stock Exchange specialists did, so they make up for it by taking much less risk. They trade in smaller lots, take smaller positions, and trade out of them within seconds rather than holding them overnight. Put another way, compared to the olden days, the expected profits of liquidity provision are lower, but the distribution is narrower: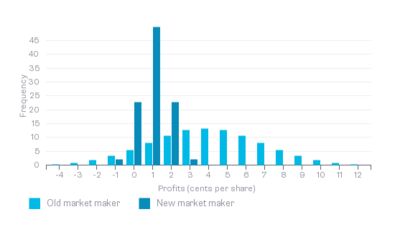 This is mostly good -- cheaper trading! -- but there's a social benefit in having liquidity providers who are willing to take risks. The idea -- and plenty of people dispute the facts here -- but the idea is that, in the olden days, NYSE specialists were supposed to step in to keep markets orderly, buying for their own account -- at their own risk -- when everyone else was selling. This reduced volatility and increased public confidence, as people felt that markets would be stable and they'd always be able to trade at a reasonable price.
That system is mostly gone, and that (fake) chart sort of explains why. If you make 5 cents a share in spread on every trade, then that can subsidize a certain amount of market stabilizing. If you make 0.05 cents a share in spread, then you will be roughly 100 times less willing to take risks to stabilize markets. 2
This I think is a sensible way to understand the Tick Size Pilot Plan that the Securities and Exchange Commission announced yesterday. Basically, U.S. stocks are quoted in increments of a penny, and sometimes traded in even smaller increments, which makes trading cheap and efficient. 3 For some very liquid stocks, this is great: You can buy a stock for $20.01 or sell at $20.00, so trading costs are very low. And the market is deep enough that it's hard for even big institutions to move the price much with their trading, so they get the benefits of cheap trading without the drawbacks of markets moving against them.
But for less liquid stocks, the trade-offs are real. If a stock doesn't trade very much, then you can't make very much money quoting it -- but you can lose a lot of money if the price moves away from you. So you manage your risk by quoting only small sizes, and moving your quote very rapidly if someone trades with you. Or by just not quoting the stock. So low natural liquidity -- low interest from fundamental buyers and sellers -- leads to low profits for market-makers, which leads them to be very jittery in making markets, which leads to many of the evils -- ""phantom liquidity," "front-running" 4 -- that critics of high-frequency trading worry about.
So the SEC's proposal is, roughly: Make some markets less efficient, by forcing market makers in smaller stocks to charge more. The pilot program would take 900 stocks, each with a market capitalization of $5 billion or less and an average daily trading volume of one million shares or less, and require them to be quoted in five-cent increments. This would last for one year, and the SEC would then compare trading in the test group with trading in similar stocks that are part of the control group.
The idea is that, if market makers can only buy for, say, $25.00 and sell for $25.05, instead of $25.02/$25.03, then they will, in expectation, make more money per trade: 5 No one can compete them down too much on price. And so they will get richer and happier trading small-cap stocks than they would in a penny-pricing world.
And then market makers will use those profits to subsidize other things: They can't compete on price so they'll compete on ... service. What sort of service? Well, here is the service they're supposed to provide, according to the SEC:
From time to time since the introduction of decimal pricing, concerns have been raised that the one penny MPV [minimum price variation] may be detrimental to small- and middle-sized companies. In particular, a few studies have raised questions regarding whether decimalization has reduced incentives for underwriters to pursue public offerings of smaller companies, limited the production of sell-side research for small and middle capitalization companies, and made it less attractive to become a market maker in the shares of smaller companies.

In 2012, Congress passed the Jumpstart Our Business Startups Act ("JOBS Act"), which contained provisions relating to the impact of decimalization on small and middle capitalization companies. Specifically, Section 106(b) of the JOBS Act directed the Commission to conduct a study and report to Congress on how decimalization affected the number of initial public offerings ("IPOs"), and the liquidity and trading of smaller capitalization company securities.
So the idea -- Congress's idea, not the SEC's -- is that the market makers will make enough money trading mid-cap stocks at five-cent increments that they'll write more research, and do more IPOs of mid-cap companies.
Now this is a strange idea. It is probably true that, in the olden days, banks made a lot more money trading stocks, and that this money subsidized research. 6 It is less obviously true that the high-frequency traders who took over the market-making business in the last decade -- and who never wrote research or led IPOs -- would, like, get into that business just because they're making a bit more money trading stocks. The arrow of time goes only one way, on this point. The JOBS Act, as is sometimes true of Congressional meddling in market structure, seems to have been driven mostly by nostalgia and confusion.
But the SEC gets that, and its 2012 decimalization report to Congress focused less on IPOs and more on market structure questions: what narrower quoting increments did to market maker profitability, effective spreads, quote depth and liquidity, and how other countries handle tick size questions. 7 And it found ... a mixed bag, but enough evidence that bigger tick sizes could improve markets to make it go ahead and try them out.
So we'll see. There's some reason to think that wider tick sizes won't improve trading that much. For one thing, "Commission staff's preliminary analysis of the Pilot Securities indicates that a significant percentage of Pilot Securities have bid-ask spreads greater than $0.05," so the tick size pilot program just won't have that big an effect: Market makers are already making more than five cents a share on those stocks, 8 so they shouldn't change their behavior too much in response to the program. So the program may not do much.
Really, it's likely that the olden days worked the way they did because profits in big liquid stocks -- which "should" have traded in penny increments but instead traded in eighths -- subsidized trading of illiquid stocks, which should have traded in eighths and did. As long as market-making in Apple stock is a cutthroat, low-margin endeavor, nobody's going to spring for research, or at-risk liquidity provision, in small-cap stocks, even if trading those stocks gets a bit more profitable. 9
Still, it's a worthwhile test, and a useful symbol. This is a deliberate attempt by the SEC to make markets less efficient, to cut back on competition and frustrate traders' desire to get the best price. If your worry is that markets might be too efficient, then that's exactly the sort of experiment you should be running.
This column does not necessarily reflect the opinion of Bloomberg View's editorial board or Bloomberg LP, its owners and investors.
To contact the author on this story:
Matthew S Levine at mlevine51@bloomberg.net
To contact the editor on this story:
Toby Harshaw at tharshaw@bloomberg.net
Before it's here, it's on the Bloomberg Terminal.
LEARN MORE