Phone-Hacking Conviction May Unspin Downing Street
British leader David Cameron is under attack for having hired a phone hacker for a spin doctor, but the real scandal is his perpetuation of a tradition of using media toughs to keep the U.K.'s tabloids in the prime minister's pocket.
by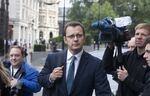 The conviction of Andy Coulson, U.K. Prime Minister David Cameron's former spin doctor, for hacking private telephones when he was a newspaper editor triggered a furious attack on the government in Parliament today. That was inevitable -- the opposition smells blood. The focus of the assault, however, is misplaced.
Cameron is being reproached for "willful negligence" in hiring a lawbreaker for a job that requires a top security clearance. Like Coulson's co-defendant Rebekah Brooks, who was acquitted of phone-hacking charges on Tuesday, the prime minister will probably dodge those accusations. Nevertheless, he is guilty of something else: perpetuating a recent custom of bringing the ugly culture of the U.K.'s powerful tabloid media into the government.
Tony Blair started it. As Labour leader, he hired Alastair Campbell from the Daily Mirror to help his party and later his government manipulate the medi -- in particular the tabloids. Talented and aggressive, Campbell excelled at the job. He helped Blair cultivate political support from Rupert Murdoch and his media empire, which includes the country's biggest-selling papers, the Sun and the News of the World, which each had circulations exceeding 3.5 million at the time.
While still in the opposition, Cameron followed Blair's example by hiring Coulson after the journalist resigned as editor of the News of the World in 2007. Cameron wanted someone from Murdoch's stables to swing the right-wing media away from Labour and behind him. Murdoch then had reservations about the Conservative Party's new leader because of Cameron's social liberalism.
Brooks, who at the time was the editor of the Sun and a friend of both Blair and Cameron, has said she was "instrumental" in persuading Murdoch to back Cameron. When the Conservatives won elections in 2010, Cameron brought Coulson to Downing Street despite news stories claiming he had overseen illegal phone hacking while at the News of the World.
The Labour Party now wants to show that Cameron deliberately had Coulson submit to a lesser security clearance than his six predecessors for fear of what would be found. Cameron gave a spirited defense against those allegations today and will no doubt survive the challenge, but there's more to the scandal than the question of Coulson's security test.
Hiring men like Coulson to run interference with the media has ended badly more than once. Alastair Campbell eventually resigned because he had become a magnet for negative coverage after allegations -- which, like the phone-hacking charges, triggered a multimillion-pound public inquiry -- that he had "sexed up" intelligence assessments to help Blair sell the 2003 invasion of Iraq, allegations Campbell has always denied.
Damien McBride, media adviser to Cameron's immediate predecessor, Gordon Brown, also had to resign. He wasn't a former journalist, but he took Campbell's aggressive style even further and has since written a memoir proudly describing his techniques for lying to the media. His tenure ended after he was caught trying to set up a website called Red Rag, on which he planned to post fabricated rumors of sexual and other misdoings by Conservative politicians for the tabloids to pick up.
Then came Coulson, who had to resign over the phone-hacking allegations and has now been convicted.
By the 1990s, British politicians felt at the mercy of the U.K.'s often vicious and ethics-free tabloid media, so they hired men who understood the culture to make it work for them. These advisers were smart and able, but their contributions only deepened the corruption of the tabloids and brought it inside the government. The increasingly close connections among tabloid editors, politicians and police -- epitomized by Coulson and Cameron's horse-riding friendship with Brooks and her husband -- bred a sense of collusion and impunity.
Public trust in the U.K. government, police and media has suffered as a result. Coulson will now take his punishment. Let him also be the last Downing Street spin doctor hired from the tabloids to win their support.
This column does not necessarily reflect the opinion of Bloomberg View's editorial board or Bloomberg LP, its owners and investors.