Let's Talk About Climate Change: Ritholtz Chart
The world is getting wetter. And we have a chart to prove it.
by
From meteorologist Paul Douglas:
According to scientists at NOAA and NASA May was the warmest on record, worldwide. It was the 351st month in a row of global temperatures warmer than the 20th century average.

Measurements of global temperatures are consistently rising, especially over the last half century. As the World Meteorological Organization points out: "13 of the 14 warmest years on record have all occurred in the 21st century."
Which brings us to this chart: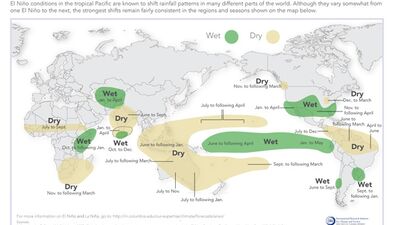 You might be wondering: What do increased temperatures have to do with rainfall?
As it turns out, a lot.
The warmer the air is, the more water vapor it can hold. This leads to an increase in rain, flooding and other weather related issues. Douglas goes on to note that, in the Midwest, the number of downpours producing more that 3 inches of rain has doubled since 1964. Consider what that means for agricultural production.
If you are tired of discussing climate change, we could always go back to the way it was in the old days. Before March 20, 1948, Americans didn't even get tornado forecasts.
This column does not necessarily reflect the opinion of Bloomberg View's editorial board or Bloomberg LP, its owners and investors.