GDP Data Suggest the Patient Is Still Recovering
Mohamed El-Erian looks at the contraction in first-quarter GDP and doesn't like what he sees. The economy is still fundamentally weak and in recovery.
by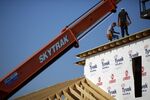 As analysts scramble to explain away this morning's sharp and unfavorable revision to the first-quarter's gross domestic product, it's tempting to dismiss that 2.9 percent drop given that weaknesses in the health-care sector was a major driver of the contraction. But it's important not to lose sight of a much bigger and consequential issue.

Overall, the first-quarter drop -- the worst in five years -- involved very broad sectorial weaknesses that spoke to much more than the negative impact of bad weather and industry-specific factors like health care. It also points to underlying economic conditions that remain weak and concerning despite several years of healing facilitated by exceptionally accommodative monetary policy.
In the first three months of this year, economic activity suffered two blows. First, bad weather reduced both consumption and investment. Second, higher interest rates at the start of the year undermined housing and confidence. Both served to accentuate the economy's structural weaknesses, thereby countering the cumulative impact of the healing that had taken place.
These two effects are much less significant in this quarter, including the sharp fall in interest rates that has helped reinvigorate housing. As such, with the economy continuing to heal, we should expect quite nice growth in this quarter's GDP. And virtually every high-frequency economic indicator so far, including this morning's other data releases, supports that prospect.
But that bounce won't be a reason for dismissing completely the implications of the first-quarter contraction. The economy has yet to reach liftoff and as such is still vulnerable to unanticipated shocks. And with Federal Reserve policy already stretched, there is little that monetary policy can do to quickly counter these shocks should they occur. Meanwhile, the rest of the policy arsenal is essentially paralyzed by Congressional polarization.
This column does not necessarily reflect the opinion of Bloomberg View's editorial board or Bloomberg LP, its owners and investors.