Draghi and the Art of the Feasible
Mohamed El-Erian analyzes the policy challenges facing ECB President Mario Draghi as he tries to spur economic growth in Europe.
by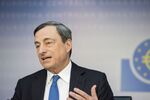 European Central Bank President Mario Draghi has already surprised many with bold policy moves to buttress the European economy, but you can expect him to lead the ECB toward an additional set of innovative measures. This will probably happen in the autumn, and Draghi's success will continue to hinge on factors outside his, and his central bank colleagues', control.