view
Central American Refugees Can Rebuild Detroit
Cutting off aid to Central America won't stop illegal immigration, or help ailing cities like Detroit.
by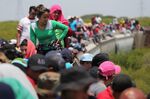 Candice Miller, the Michigan Republican who is vice chairman of the House Homeland Security Committee, thinks there are better uses for taxpayer dollars than helping Central American nations stem the tide of young people flocking to the U.S. border:

Instead of increasing funding by hundreds of millions, as the president has called for, we need to stop foreign aid to the Centrals -- immediately. Examples of what our USAID is being used for in the Centrals include helping civil society programs, climate change, and addressing the gender gap in education and the workforce. We'd be better off spending this money in the inner cities of America. We can start with Detroit. ...
No more financial assistance from the U.S. to the Centrals that are shipping their children here illegally, and we should reopen, reexamine, and perhaps repeal trade preference agreements, especially NAFTA and CAFTA.
Let's unpack some of those assumptions. Yes, the Barack Obama administration's 2015 budget called for $130 million for the Central American Regional Security Initiative -- $30 million less than the previous year -- and the administration has requested an additional $255 million in response to the illegal influx of minors. But very little of this money is going to climate change or closing the gender gap. The supplemental request is for repatriating deportees, prosecuting gang members and expanding youth programs to blunt gang recruitment. And most of the $130 million for Carsi, a program that grew out of the George W. Bush administration, goes to fight crime and drug trafficking. (Miller might want to read this handy report by the Congressional Research Service.)
It's also crazy talk to suggest the U.S. should repeal trade agreements with Central America and Mexico. The Central American Free Trade Agreement has boosted U.S. exports, reversed a persistent U.S. regional trade deficit, and created jobs and opportunities that help keep Central Americans at home.
More broadly, let's put in perspective Miller's bluster that the U.S. isn't an ATM and that Washington should funnel foreign aid money toward our own struggling cities: The U.S. spends less than 1 percent of the federal budget on foreign assistance. As a proportion of gross national income, U.S. foreign aid lags that of 18 of its 23 developed-country peers. And that $385 million for Central America doesn't amount to more than a warm bucket of Stroh's beer in terms of helping Detroit, which at last count owed its creditors almost $20 billion. Miller herself rejected any kind of federal bailout during the city's financial implosion.
Miller makes a decent point that the Obama administration needs a public relations blitz in Central America to make clear that the U.S. is not handing out free green cards to unaccompanied minors. Better border enforcement and speedier processing of deportees wouldn't hurt, either.
Yet if she really wants to help Detroit, here's a zany idea that would get us something in return from our neighbors to the south: Offer the families of some of the 52,000 minors apprehended at the border this fiscal year the chance to move to a city that has lost almost 250,000 of its residents (more than more than a quarter of its population) over the last decade. They could participate in the budding effort to convert the city's 150,000 vacant lots back into farmland, thereby easing blight, creating jobs and increasing the tax base. You could call it the urban Bracero Program.
To contact the author on this story:
James Gibney at jgibney5@bloomberg.net
To contact the editor on this story:
Toby Harshaw at tharshaw@bloomberg.net
Before it's here, it's on the Bloomberg Terminal.
LEARN MORE