Britain and Europe Are Heading for a Divorce
David Cameron is trying to argue that Europe is reformable. Europe is telling the world it isn't. 
by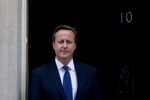 British Prime Minister David Cameron is steeling himself for a defeat at this week's summit of European Union leaders in Ypres. Until recently, he expected to get his way over blocking the appointment of Jean-Claude Juncker as the next head of the European Commission. He dug himself in on that assumption. He now seems likely to be outvoted.