Bigger Isn't Better for Apple
Apple's manufacturing partners are about to start producing a phablet, which the company needs to compete in the growing Asian market. The move is reminiscent of the marketing-driven expansion of Apple's product line under former chief executive John Sculley.
by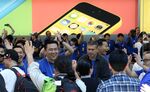 Apple Inc.'s Chinese manufacturing partners are gearing up to start making iPhones with a 5.5-inch screen next month. The move is a reminder of some past missteps, such as the decision in the early 1990s by then-Apple Chief Executive Officer John Sculley to expand the company's product line until it became confusing, or Sony Corp. co-founder Akio Morita's order requiring employees to wear shirts with big pockets that could hold a bulky "pocket radio".
Apple, while still technically a market leader, is now a follower -- but there's not much else it can do, given the growing role of Asian markets for smartphone makers.
Last month, the research firm Canalys issued a report showing that 34 percent of mobile phones sold in the first quarter of 2014 had screens bigger than 5 inches, placing then in the phablet (phone plus tablet) category.

In Europe, consumers don't have much use for phablets. Research from Kantar ComTech shows that although people initially want to trade up from smaller phones (56 percent of those who own a 4-inch one, such as the iPhone 5, get a bigger screen when they switch, and only 13 percent move to a smaller one), a whopping 56 percent of phablet owners downgrade with their next purchase.
This isn't the case in Asia: Take a subway ride in Hong Kong or get on a bus in Singapore, and you'll see locals peering -- and talking -- into oversized smartphones. Unlike Morita's employees, these people put up with the impaired portability of phablets by choice: The devices are more fun if you're into games or mobile TV, which, according to Kantar, one in five phablet owners watches on a daily basis.
In Greater China, phablets accounted for 39 percent of smartphone sales; in the Asia Pacific region, they made up 43 percent of shipments.
Apple has watched the rise of Xiaomi Corp., the Chinese smartphone maker that increased its market share in its home country to 9.2 percent in the first quarter of 2014 from 3.9 percent a year earlier, and the solid performance of another local brand, Coolpad Group Ltd., which increased its market share by 0.8 percentage points to 10 percent in the same period. Both Xiaomi and Coolpad sell more phones in China than Apple does. And both companies have flagship phones with 5-inch or bigger screens. So does the market leader, Samsung.
"Apple plainly needs a larger-screen smart phone to remain competitive, and it will look to address this in the coming months," Canalys correctly predicted in May.
From the conventional marketing point of view, that is the only possible approach. Apple is a popular brand in China, accounting for 8.7 percent of unit sales in the first quarter, despite its pricey offerings and small screens. It's not really late to market with a shovel-sized phone, either. The real growth in phablets is likely to occur in the next few years as 3G and LTE networks develop throughout Asia:

There are just two problems with Apple's plan to portray a big-screen iPhone as this fall's major "innovation." It's a copycat move, and it's a move away from the product-line asceticism Steve Jobs fought hard to institute after his Apple comeback in 1996. "Focus," he kept telling his employees, who had come to believe in marketing-driven diversity under Sculley and his barely remembered successors. It was that policy that resulted in Apple's producing only one iPhone model at a time under Jobs.
Under CEO Tim Cook, Apple has already departed from this principled stand by offering the slightly cheaper, colorful iPhone 5C last year. It did not do as well as the flagship 5S. That should have taught Apple to stick to its Jobs DNA and release one model in 2014, perhaps with a larger screen. But that European research on phablets looked troubling, and Apple is going with two different-sized models.
We have to get used to the fact that, despite its pedigree, Apple is now just another player -- albeit an exceptionally strong one -- in a commodity market. Sculley now plansa smartphone made for the Indian market. Here's a quote from the marketing guru who couldn't live with the way Jobs did things: "We feel there is an opportunity to build another brand in India that would combine global branding skills .. (and) go into price points that are more like the local brands."
See, he appreciates Asia's importance, too. Breakthrough engineering? Forget it, there are more important considerations.

This column does not necessarily reflect the opinion of Bloomberg View's editorial board or Bloomberg LP, its owners and investors.