$3 Million and a Black Eye for Ghana's Black Stars
Players were threatening to forfeit the match because they had not received the bonus payments they had been promised for qualifying. 
by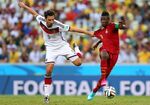 Ghana's soccer team remains alive at the World Cup, but off the field things have not been pretty. The country's national soccer federation stands accused of corruption after British journalists exposed an apparent agreement to participate in games organized by match-fixers. In a six-month undercover investigation by the Daily Telegraph and Channel 4's Dispatches, reporters posing as match sponsors approached Christopher Forsythe, a FIFA-accredited agent, and Obed Nketiah, a senior official of Ghanaian soccer, who were caught on camera promising to place Ghana in matches overseen by bribed referees.